Inversion Preview

As part of this weeks awesome Namco Bandai coverage, where we have already brought you previews of Dark Souls and Soul Calibur V, but we also got some hands on with upcoming third person shooter Inversion. After Inversion was first announced in October 2009, developer Saber Interactive and Namco Bandai have never been shy about calling Inversion "The Inception of video games."
Inception is visually spectacular, and is as complex as it is beautiful, so such a comparison could be dangerous for this gravity-defying shooter.
Inversion will see players assume the role of David Russel, a cop who has witnessed his city be taken over by an enemy known as the Lutadore. The invasion has seen Russel's wife murdered and rendered his daughter missing. While his city is defenceless against an enemy that seems impossible to overcome, Russel and his partner, Leo Delgado, set out on a mission to manipulate gravity and spill as much Lutadore blood as possible as they search for Russel's missing daughter.
While the story could be considered rather run of the mill, one thing that certainly isn't is the gameplay. While the whole gravity-defying thing may be an idea already explored in other games, Inversion certainly does it differently, focusing on not just the power of a gravity gun, or the Gravlink, as it is called, but on the entire environment. Namco Product Manger, Gary Chantler, said that the varying degrees of gravity throughout the game make for some unpredictable gameplay, and from what we played, we can certainly agree with him.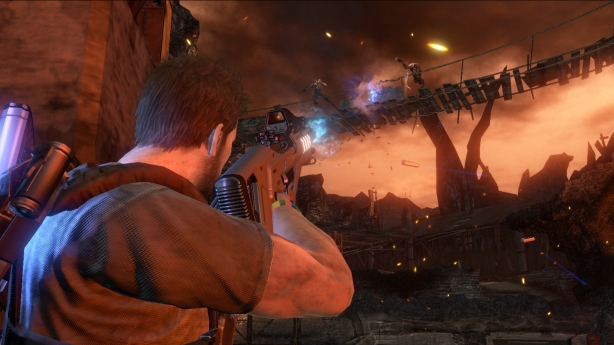 Players can use the Gravlink to increase and decrease gravity in small areas, pull enemies towards the player to finish them off with a melee and pick up objects to throw at the opposition. Decrease the gravity, and enemies will emerge from cover and float like sitting ducks while they are waiting for the player to choose which way they are going to take them out. Increase the gravity, and enemies will be pinned to their positions, allowing players time to get out of shooting range, or throw a cheeky grenade in their direction.
We found that the Gravlink allows for some great tactical gameplay. You will be able to send one group of enemies floating in mid-air while you pin others down at the same time. It allows players to get involved, and even creative, in the way they choose to play the game. Going all out will work at times, but well thought out tactical play is extremely rewarding in Inversion. Clever use of the Gravlink will be vital, as the Lutadore's human slaves behave like zombies and charge at Russel at any opportunity, all whilst dealing with armed Lutadore soldiers. When it gets too much, players will be able to deal with the slaves by pounding the ground with a shock wave which removes gravity from under the feet of all enemies within close proximity. Here, it gets nice and gory, as players can shoot them, causing their bodies to break up into pieces. Dismembered bodies can then be turned into weapons, as players use the Gravlink to grab arms and legs before hurling them at whomever they see fit. There is always the option of some good old fashioned shooting, and the gunplay is enjoyable. After upping the sensitivity a notch or two, it was well weighted and as seamless as one could hope it to be, which is awesome considering you won't want to be using your gun all the time.
The environment in Inversion takes a little getting used to. As we played through the demo, where Russel has to make his way to the Lutadore port, covering molten ground taking out enemies using the mentioned Gravlink techniques, it soon becomes a lot more interesting, and soon players see walls, or vectors, with enemies standing on them, firing away at players while they are on what is perceived to be the floor. At this point, players will come across a gravity vector, which will allow them to get on the walls, which then become the floor, and take out enemies on a level playing field.
Getting to this point will be challenging, as Inversion's use of the Havok Destruction Module will see enemies destroy surrounding cover, making finding new cover difficult. Of course, players will be able to do exactly the same to enemies meaning all sides are constantly on the move as the environment around them changes at a rapid rate. When players do find decent cover, they will find a well worked out cover system is in place, which adds another dimension to the tactical gameplay.
There are also areas of zero gravity to be found throughout Inversion, which adds yet another dimension to the gameplay and will mean players need to think a little about how they are going to tackle the oncoming enemies.
With so much going on, the visuals have to match the excitement, and for the most part, players will be impressed with what they see. Blood splattering and explosions galore, Inversion is all about in your face intense gameplay. The camera angles change nicely when players move from floor to wall and while things feel squeezed in when shooting at enemies from the floor to the wall, it also feels right at the same time and adds a sense of urgency to the gameplay.
While the storyline didn't offer up much to get excited about, the gameplay makes up for it. There are obvious influences from the likes of Gears of War in the gameplay, but the player options and environment take those influences and put them to great use. Out of all the games showcased at Namco's summer event, this was the stand out title for me and the end of the demo, after I took out one of the larger than life enemies, which will be found throughout the game, I was craving for some more action.
All of the action in Inversion can be enjoyed with a friend, too. Players can play through the whole game as Russel and Delgado, and that's not to mention the online modes, which we hope to tell you about in greater depth in the near Future. Namco is very honest about its approach to its core titles in the coming year. It wants big games, with big markets and big sales. With Inversion, Namco and Saber Interactive stand a good chance of achieving just that.
[nggallery id=490]
Inversion is set to release on February 10th 2012 for Xbox 36o and PlayStation 3.