Batman: Arkham City Nightwing Trailer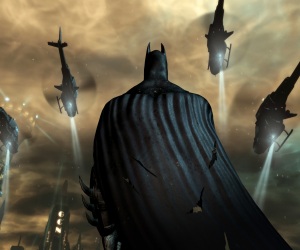 Have you been enjoying Batman: Arkham City and aching for some downloadable content? We good news everybody as Warner Bros. Interactive Entertainment and DC Entertainment are going to release the new Nightwing DLC, which will be available on Xbox LIVE Marketplace on 1st November and on PlayStation Network on 2nd November. To show this off this new DLC, a new trailer has been released!
The trailer shows off the intense melee skills of Nightwing (A.K.A Dick Grayson, who used to be Batman's former accomplice, Robin) as well as the vicious arsenal of fighting moves and styles that he uses to take down the criminals of Arkham City. Not only that Nightwing, comes equipped with his own array of unique gadgets and special moves, will be a playable character in all of the challenge maps of the game, as well as two additional challenge maps that come with the DLC pack which are Wayne Manor and Main Hall. To top all this downloadable goodness off, you will also obtain a bonus animated series Nightwing character skin!
The Nightwing DLC will cost you a mere 560 Microsoft points on 1st November for Xbox and £5.49 for PlayStation Network on 2nd November, and be aware that the Robin DLC for Batman: Arkham City will be available on 22nd November for the exact same price. So if this has you ready to stick your cape on and go out to the streets and fight crime whilst exclaiming "I'm Batman,  for a start you're not and instead of getting filled in by someone while everyone is laughing at you, make sure you stay at home and download this awesome content! In the meantime, here is the trailer for you to enjoy and make sure you check out our preview of this game and look forward to our future review!
Batman: Arkham City is available to purchase now on Xbox 360, PlayStation 3 and PC.