Geek in the Tubes – Episode 5: MW3 Multiplayer Madness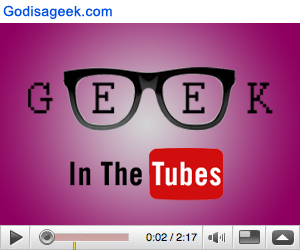 Welcome to episode five of Geek in the Tubes, our monthly round-up of some of the best gaming videos to be found on the Internet. Last month, we hit you with some funnies, as well as some cool gaming technology. This month, however, we are going to check some of the best Call of Duty: Modern Warfare 3 clips around the web.
There has been some truly insane kills, streaks and moments of luck in the short time since the record breaking Modern Warfare 3 released. We can't show you them all, but you can look forward to our selection.
Kicking things off this week, we have probably the most insane knife kill you'll ever see, in any game. The knife goes on a rather long journey in this one, casually hitching a ride abord a helicopter before finally dropping off to take the unwitting camper out. Cracking stuff and well deserved, we felt.
Next up, we have a Sniper streak which shows it's not all about sitting on the edges of the maps and waiting for your enemies to walk past in the distance. YouTuber 'CodByNight' uploaded this epic streak of close-quarter sniper action, where eight players are quick-scoped and blind-fired to their deaths, in impressive succession. Dude's got skills!
Not to be outdone by the first crazy knife kill we showed you, YouTuber 'StraightUpKnives' admits that this could possibly be one of the luckiest kills ever in Modern Warfare 3. Again, the knife takes an age to reach its victim, and rattles around on a radar dome high up before quickly taking out an enemy who could have only spawned a second earlier. Which one do you think is luckier? I'm going with the helicopter one, but this is epic nonetheless.
Lastly, we have YouTube user xJawz, who has made a commentated video of his rather impressive 40-3 score in Team Deathmatch with the G36C. For anyone aspiring to improve their skills in Modern Warfare 3's multiplayer, this is a good starting point. The commentary comes with some helpful tips, as well as some awesome gameplay. Be sure to check out the glitch at 00:58, where a player dies rather dramatically.
And that's about that for this month. We hope you enjoyed episode five of Geek in the Tubes. Have you seen some better Call of Duty: Modern Warfare 3 multiplayer clips on the web? Be sure to post them in the comments so others can check them out, too! Have a great weekend, Geeks.