Gioteck HF-2 Ergonomic FPS Controller Review
When it comes to high-end gaming controllers, Razer and Madcatz are usually the brand names that spring to mind. Well, newcomer Gioteck have recently launched an offering that's going to compete with the best of them.
The HF-2 is the hardcore PlayStation 3 gamer's answer to the Xbox 360 controller. That's the simplest way to put it. It's a PlayStation 3 controller that has been totally re-designed with the hardcore FPS gamer in mind. With ergonomic placement of bumper/shoulder buttons and triggers, dish-shaped directional pad and the all-important offset analogue/thumbsticks, for precision and accuracy. We're not to underestimate the efforts gone into the ergnomic design of this controller, Gioteck state that it is 'Ergonomically positioned for optimal thumb rotation between button cluster and right thumbstick' – that's some serious stuff.
The thumbsticks themselves have customisable sensitivity. You will need to plug the controller into a PC for this, but with a quick driver download/install, you'll be able to change the sensitivity config at the flick of a  switch. This also future-proofs the controller, with downloadable firmware updates being available.
This controller looks very Xbox 360-esque, naturally. Being ergonically designed for comfort and control, it's bound to. But that doesn't mean it feels like an Xbox 360 controller. Far from it. The HF-2 is coated in a soft-to-the-touch tactile silk material designed to enhance grip. Not enough emphasis is placed on the softness of these gadgets, it's one of those small touches that makes a difference. It's so comfortable, this controller is just a pleasure to hold. And while the shape may be similar to an Xbox 360 controller at first glance, it's certainly not a direct copy, place the controllers side-to-side and you'll be surprised at the differences. For example, the slightly off-set bumber buttons means that 2 finger play is much easier, with one finger on a trigger and another on a bumper.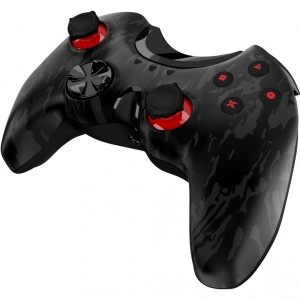 The colour scheme is very pleasant on the eye too. With an urban camouflage front, black features and red highlights.
There are so many finer details with this controller, that it's hard to include them all in a review. The analogue/thumbsticks are concave with an anti-slip rubber material and notched at 90º angles, for more intuitive directional accuracy. The action buttons (triangle, circle, square and x) are contoured. The triggers use state of the art Japanese variable resistors, for optimal spring loaded feedback. Not to mention, the L1, L2, R1 and R2 buttons are interchangeable via a hardware flip-switch at the bottom of the controller, meaning you can swap the funcationality of them easily. This makes the HF-2 absolutely perfect for FPS gaming on the PS3, where you're never sure if 'fire' will be mapped to R1 or R2.
The most controversial feature on this controller is the turbo button. Arguably a great addition, boosting the controller into the "it has everything" category, but also arguably naughty, as online gamers frown upon the use or turbo buttons. Either way, it's there and ready if you're in the need of user-programmable rapid fire.
The only downside to this controller is that it doesn't come with a rechargeable battery pack. This is quite disappointing as you're left with the option of buying batteries, or playing wired. Even if a rechargeable battery pack was available separately, it would make all the difference .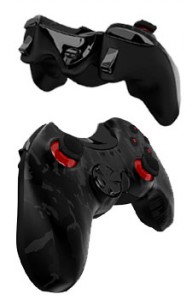 It should be noted that there's no need for a USB Dongle. The HF-2 connects directly to the PS3, which is not always the case with third party controllers.
With an RRP of just £29.99, I can't recommend this controller enough. Genuinely, it's the nicest controller I've ever had the pleasure to play games with.