Kasabian Create a Real Life Football Video Game!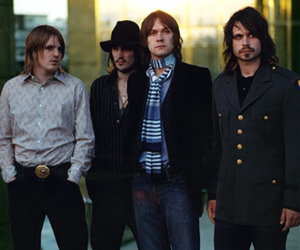 To celebrate the launch of Kasabian's new album, Velociraptor!, Sony Ericsson, Umbro and Kasabian themselves, have teamed up to create Kasabian Football Gaming Live – a virtual game of football that uses Xperia PLAY handsets to control real life players on a pitch.
Tom Meighan (Kasabian frontman) and Darren Bent (Aston Villa) took part in the ambitious event that had the both of them control two 5-a-side teams electronically via specifically programmed Sony Ericsson Xperia PLAY smartphones and headsets. The singer and football player were able to command the players on the pitch to strike, tackle, cross, dribble, slide and pass through their smartphones which acted as controllers.
Meighan said: "I wouldn't have stood a chance playing against a pro-footballer like Darren in real-life, but on the Xperia™ PLAY it's a whole different ball game. I think I actually managed to give him a run for his money – never under estimate a musician's secret football talents!"
Whilst Aston Villa's Darren Bent added: "It was great fun using the Xperia™ PLAY to control my players and completely surreal. I never thought in a million years I'd be playing football against a rockstar."
I must say, this is pretty sweet. Check out the video and pics below…But I know Sepp Blatter will see this and be adamant that video refs can still not be included in the actual sport. Let the debate go on.
[nggallery id=652]