Rayman 3 Hoodlum Havoc is Getting the HD Treatment Next Year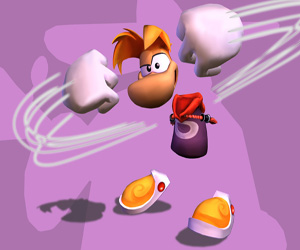 Rayman Origins comes out today and has been many game reviewers' sleeper hit of the year, praising its glorious 2D visuals and terrific gameplay. To celebrate the return of the limbless platformer , Ubisoft have announced that, the fan favorite, Rayman 3 Hoodlum Havoc is returning with an all-new high-definition makeover for Xbox LIVE Arcade and PlayStation Network this spring.
Originally released in 2003 on Xbox, Playstation 2 & PC, Rayman 3 Hoodlum Havoc remains a favourite amongst fans of the French platforming series from the mind of Michel Ancel. The revamp will include 15-20 hours of gameplay, nine stand alone mini games, achievements & trophies, online leaderboards and will run at 60 frames a second with better audio quality.
For some reason or another, Rayman has remained a cult platformer, sort of like an unsung hero. He has never received the same level of praise that his fellow heroes in the genre are bestowed from the masses. These HD versions of games are great for people that have missed the title first time round and this title is no different.
Check out the screenshots from the upcoming Rayman 3 below.
[nggallery id=658]
Rayman 3 Hoodlum Havoc is set for release in Spring 2012 for Xbox 360 & Playstation 3