Tekken Hybrid Review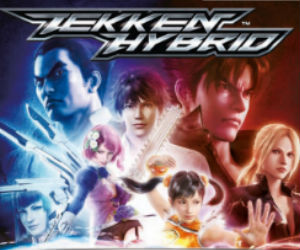 Game: Tekken Hybrid
Developer: Namco Bandai
Publisher: Namco Bandai
Available on: PlayStation 3 Only
Tekken used to be a huge deal. It was the first Tekken game that made me so desperately want to pick up a PlayStation, such was my excitement at playing it in my local Comet, and realising the arcade conversion was more or less a carbon-copy of the Namco coin guzzler I had hammered in an games room on a French camp site the previous summer. Up until then I had been a staunch 2D fighting fan, even eschewing the technically more sophisticated Virtua Fighter to remain loyal to Capcom and SNK. But the King of Iron Fist Tournament changed that, and I greedily lapped up the next two instalments in the series, which peaked back then with the superb Tekken 3.
The franchise reached what some would call its lowest point with the Marmite-esque Tekken 4, and despite the fifth and sixth entries in the series being extremely competent, deep fighters and returns to form (I particularly loved the stunning Dark Resurrection port for the PSP), Namco's once popular fighting series was eclipsed in the popularity stakes by the likes of Street Fighter IV.
Let's rewind things back a bit. In between the main canonical entries of the series came Tekken Tag Tournament. It was one of the launch titles for the then fledgling PS2, and provided a remixed version of Tekken 3 (it was originally released as an update to the arcade version of said game) with a tag team fighting mechanic, improved visuals and music, and a bumper crop of forty playable characters from across the series, including a couple of newbies. It went down well at the time, and has gone on to become something of a cult classic.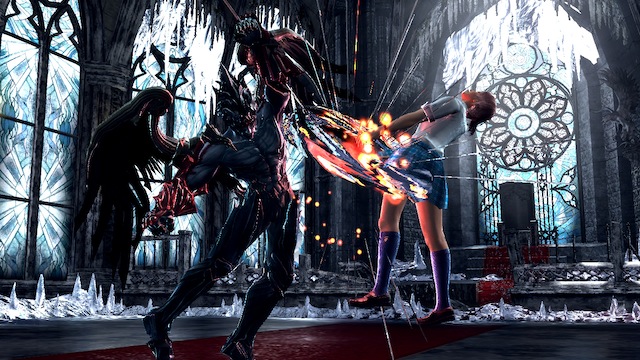 The good news for fans of classic Tekken, is that the Iron Fist posse are about to be in our faces once again, with the highly anticipated crossover fighter with Capcom on the horizon, as well as new games for the 3DS and Wii U promised. Perhaps best of all is the forthcoming Tekken Tag Tournament 2, which promises to marry the excellent fighting mechanics from Tekken 6 to an improved tag team system. To whet our appetite for what is to come, and give us a nod to their past, Namco have decided to give the original Tekken Tag Tournament a HD makeover, and bundle it onto a Blu-Ray disc with a playable demo of the forthcoming sequel. Unlike the original Tag brawler, the sophomore game does have a storyline. So to promote that side of things, we are also given an HD CGI movie based upon the upcoming game, to round out the disc. The question is, does the content on this single shiny disc amount to thirty quids worth of your scrilla?
As the meat in this CGI movie and playable demo sandwich, the HD port of the original Tekken Tag is the most substantial part of the package. This reworking reminded me of when SNK Playmore decided to give a clutch of The King Of Fighters games a Re-Bout overhaul a few years ago. It has given the original game a slick makeover, smoothing out the blocky characters, and redrawing some of the backgrounds. It is as impressive an up-scaling job as you'll see, and while it is still unmistakably a retro game, it looks much better here than you remembered it when you first got your mitts on Sony's PS2.
Gameplay wise it is a straight port. The game does not feature the deep juggling style that has been worked so well into the recent Tekken games, nor is the tagging system as varied and complex as something like Ultimate Marvel Vs Capcom 3. But what you do notice is how much fun the game is. For someone who spent so long mastering the likes of Tekken 3 back in the day, the game is as intuitive as ever, and it wasn't long before I was One-Inch Punching the crap out of opponents with Forrest Law, or utilising the still awe-inspiring array of wrestling power moves in the King/Armor King arsenal.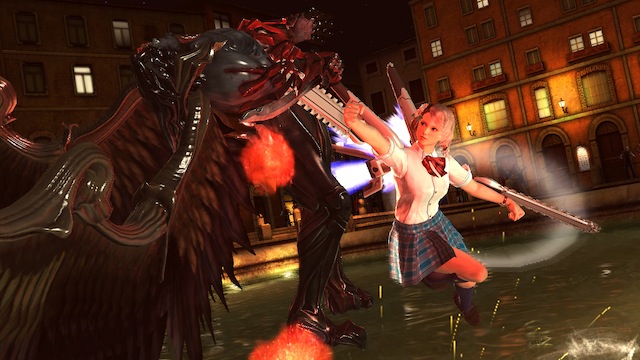 You get your standard Arcade, VS and Survival modes to play through, and unlockable trophies for meeting certain conditions. But what you also get to enjoy is the brilliant Tekken Bowl minigame. A massive diversion in its own right, it is the most fun approximation of the ten-pin pseudo-sport that you can play outside of Wii Sports Resort. Whilst it follows standard bowling rules, you play as a tag team, alternating shots. Every character has their own style and nuances, making for a surprisingly complex affair. Someone like P-Jack can use a Terminator-style aiming system and brutal power, whereas a smaller technical character can mop up any spares with an improved grasp of spin. Tekken Bowl is a fantastic inclusion that cannot possibly fail to put a smile on your craggy, game-hardened face.
A Tekken Tag sequel featuring improved tag abilities, Tekken 6-level techniques and stunning HD graphics sounds alright in my book, and the limited Prologue playable demo of this forthcoming game does a tremendous job in showcasing what looks like being a tremendous effort. There are four characters to choose from, the ludicrously costumed Devil Jin and Devil Kazuya, bendy schoolgirl Ling Xiaoyu and robotic female Alisa Bosconovitch. You can play through the short arcade mode using a combination of these characters, or play some VS action with a mate.
From the off it is apparent that the way you can bounce opponents off the deck to pull off insane juggling has been carried over from Tekken 6. There are new dual attacks that you can carry out with your tag partner, which are as impressive looking as they are satisfying. The graphics look stunning, huge, beautifully animated fighters with tons of detail positively sparkle against smooth backdrops that include some outstanding lighting and water effects, amongst other things. I expect the fighting locales to be improved prior to the full release, there are "walls" that you can slam your opponent into a la Tekken 4 but everything takes place on a flat plane with no physical obstacles in some of them, so some undulating terrain or destructible scenery would be most welcome.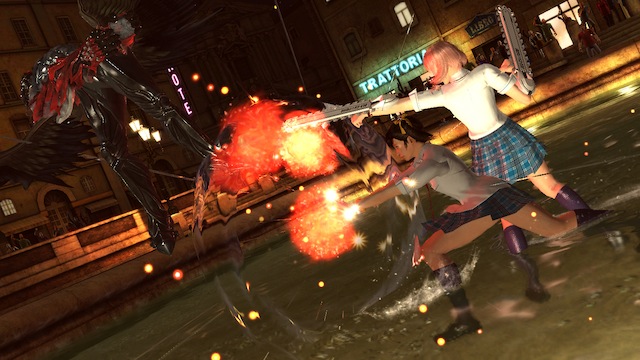 There are some Trophies to unlock, which was quite unexpected for what is a short, easy to finish playable demo, and most of these are based around pulling off certain moves or combos. The main problem with this is that unlike the original Tag game included here, there is no way of accessing an in-game moves list. This will probably hinder most players, even someone who is familiar with the Tekken-verse such as myself was struggling without a bit of help, so this was a bit of an odd omission.
Even worse is that there is no online support for either game. I am willing to let this ride in the case of the Prologue part of the disc, nobody realistically expects to be able to take a demo online, but it is a glaring no-show in the case of Tekken Tag Tournament. For a game that is still wildly popular in some circles, inspiring tournaments and get togethers for fans, it is completely insane that there is no way of matchmaking online. Capcom and SNK have made sure that all of their retro remakes and releases come with this as standard. Yet again Namco is lagging behind its one-on-one fight nemeses.
I am no movie critic, but I know what I like out of an animated movie. So let me just say that whilst it looks impressive enough, the CGI Blood Vengeance film, which focusses on the four playable characters from the aforementioned demo, is not going to be troubling the likes of Pixar or Studio Ghibli for a space in my affections. Strictly one for the fans, it features a convoluted plot, poor script and voice acting, and even a bit of distasteful misogyny. Not nice. Although in fairness the fight scenes look alright.
VERDICT: This is a bizarre release. I cannot see how someone other than a Tekken die-hard is going to want to dip into their pocket to the tune of the RRP for this package, particularly given its shortcomings. On the plus side, it features a cracking port of the 1999 game, and a mouthwatering taste of what is to come (with Trophies!). Oh, and Tekken Bowl is amazingly fun. When you factor into the mix the baffling lack of online and the frankly awful CGI movie, you wonder why they didn't just whack Tekken Tag Tournament onto PSN for the same pricepoint as their previous Dark Resurrection download, release the demo for nothing out of pure goodwill to the fans, and just not bother releasing Blood Vengeance at all.
Namco are a much loved company, with a stunning back catalogue of games – but their recent commitment to retro compilations and products such as this have been hit and miss at best, as our recent look at Pac-Man & Galaga on the 3DS demonstrates. Tekken Tag Tournament 2 looks like it is going to be awesome, and we are excited to bursting point to see what they can do on the new handhelds and in partnership with Capcom. Unless you really, really want to sample what Prologue has to offer, I would advise waiting until the full release.