Lick It or Lump It – Confirmed Box Art for Lollipop Chainsaw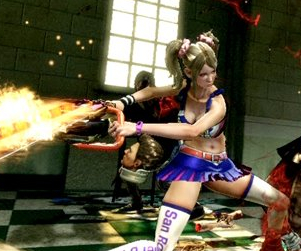 Warner Bros. Interactive Entertainment and KADOKAWA GAMES bring you cover art for the upcoming Lollipop Chainsaw. Other than having a superb name, Lollipop Chainsaw looks to be great fun! You take on the role of a cheerleader at a Californian highschool and tear zombies apart. What's not to love. It's being developed by Grasshopper and headed by Suda 51. All signs point to a really interesting title when this drops in 2012.
As well as confirmed box art, the image will also be the main image in Juliet's Yearbook Tab on the official Lollipop Chainsaw Facebook page. In the yearbook tab on Facebook, fans can send in their own zombie headshots in the Juliet's Head of the Class competition. These submissions will be voted on and the highest rated pictures will be  included in Juliet's Head of the Class Yearbook and on the front page of the gallery.
"Lollipop Chainsaw is the 'un-deadly' story of sweet but killer zombie-hunter Juliet Starling and her quest to uncover the root of a colossal zombie outbreak. With her wickedly awesome chainsaw in hand, Juliet slices, dices and splits her way through hordes of the undead, but soon realizes the horde is only the opening act to a festival of zombie rock lords determined to kill the chainsaw-wielding cheerleader."
Check out the box art for PS3 & 360 below.
[nggallery id=688]
Lollipop Chainsaw is set for release in 2012 on Xbox 360 & Playstation 3