NeverDead Arrives In February, 'Armless Puns Begin Now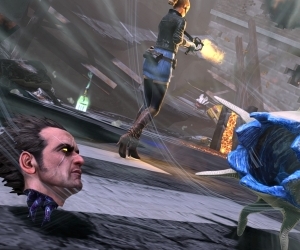 Those of you looking forward to Rebellion's NeverDead can now lose their heads (and other appendages) over the news that Konami have given the game a solid release date for Xbox 360 & PlayStation 3 – February 3rd, 2012.
Created by Shinta Nojiri (Who has been involved with classics such as Policenauts and the majority of Metal Gear titles), NeverDead puts you into the body of an immortal hero named Bryce Boltzmann – A gun-toting, blade-wielding demon destroyer, belonging to an agency that protects Earth from the threat of invading hellspawn.
The thing about being an immortal, is that Bryce is pretty hard to kill (as you would imagine) – Even the removal of limbs isn't enough to stop Bryce from doing what he does best: Kicking demon arse. Bryce can re-attach his lost arms and legs, or just use them as weapons. In addition, he can literally lose his head; giving players the option of rolling Bryce's bonce around to access new areas (Bryce Boltzmann: 1, Highlanders: 0).
Nojira-San is incredibly pleased with NeverDead's unique take on limb usage: "Losing a limb is a mere inconvenience and Bryce's physical skills allow a wealth of ways to take out the enemy – from close-range combat, to throwing limbs into clusters of monsters and shooting them remotely! This adds a level of humour to the game that brings the world-weary main character to life, while players can revel in game worlds that can are fully interactive and eminently destructible."
Konami have promised that NeverDead will be supported with various items of DLC (including add-ons), and that more information on this will be available soon. Konami have also released some interesting new images from the game (see below).
I've always had one eye on NeverDead since it was announced, so I'm glad to finally hear news of it's release. It also means I get to post this clip from Konami's legendary E3 2010 conference:
[nggallery id=668]
Neverdead is released by Konami on Xbox 360 & PlayStation 3 on 3rd February, 2012.