PopCap Games Come to Android & Chrome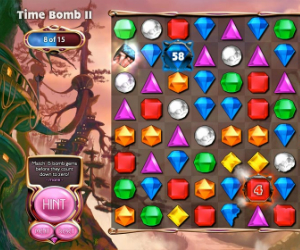 Browser based gaming looks to be getting bigger and bigger as the days pass. Like Bastion a couple of days ago, Bejeweled is now confirmed to be on the Google Chrome Web Store, right now! The game has been specifically customized for the HTML5 browser with advanced 3D accelerated graphics and effects and features two modes; Classic and Speed.
Bejeweled franchise business director at PopCap Games, Giordano Bruno Contestabile said, "Everyone is looking to HTML5 these days because it holds the promise of cross-platform development across all browsers and mobile devices…While it's still early in the technology life cycle, we at PopCap are very interested in the potential of HTML5 gaming, and this game is one of the most advanced and impressive HTML5 games yet implemented."
Along with that, Android users can finally get their paws on Plants Vs Zombies and Peggle later on the week via the official Android Market. The games have been available through other compatible marketplaces, but never on the official Android market place itself. These games have been available through iOS and other gaming platforms for a while, so it's nice to see Android users get some love.
People may look down on Facebook games and think of them as "just" Facebook games, but that shouldn't be the case. Facebook games and flash games were just the beginning. Browser based gaming is really starting to gain some momentum and with the likes of PopCap and SuperGiant Games backing it, it will get stronger and stronger. Uncharted 4: Drake's Among Thieves And Deceiving Them At The Same Time, only for Firefox…I can see it now…
Check out screenshots from Bejeweled on Chrome below and you can download it here.
[nggallery id=686]