Retro Corner: Christmas Special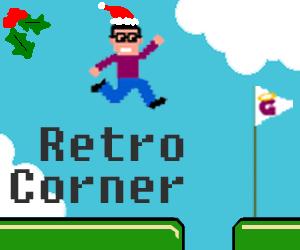 This month in the Retro Corner – as we approach the end of the year – we are starting to feel like we are filling up with the Holiday Spirit. With that in mind, we are going to do something a little different this month  and instead of focusing on one title from the past to take a look at, we are going to show you a few of our favourite Christmas themed Video Games.
Not all of the games are specifically based around the idea of Christmas, but they all include Festive features or stages and when look back at these titles they give us that warm, fuzzy feeling you only get at Christmas. Each person will have their own very different list – such as the games they received when they got their very first home console on Christmas day – so some of your top picks may well not be featured on our shortlist.
That is why we would love to hear your favourite Christmas games, so please leave a comment or head over to our forums to compare your choices with ours – or tell us why another title really should have made the cut.
But now, without further ado, here are some of the our top Christmas titles:
Home Alone (Super Nintendo Entertainment System, SEGA Master System, SEGA Genesis, SEGA Game Gear, Amiga, MS-DOS, Nintendo Entertainment System, Game Boy – 1991)
When I think of Christmas films, I immediately think Home Alone. I have to watch the film once every year in December – otherwise things don't feel Christmassy enough! But Movie licenses don't usually make for good games, that is a well-known fact. And comedy films certainly aren't the most obvious choice to get the video game adaptation treatment. But i suppose the idea of booby-trapping your home that was promoted in Home Alone was far too tempting for game designers. Luckily, what was put together was actually fairly good and quite playable.
Obviously, in the game you play as Kevin McAllister – the boy left by his parents, in his huge house, all alone. The Wet Bandits – Harry and Marv – are trying to rob every house in the neighbourhood and you have to foil their plans. This involves you setting up a whole host of traps around the house, using everyday objects. There are five houses to protect and you can move around the neighbourhood on your snowmobile (a little artistic license used here) whenever you choose. Each house is given a blueprint – as Kevin draws up in the film – and you can then place your traps around the house. You are given a set amount of time – the time before the Wet Bandits have finished robbing all of the houses – to inflict enough pain on the bad guys so that they can't make off with all of the valuables before the Police arrive.
It is great fun to first set up your traps, then to enter the same house as the Crooks and try to lure them into the traps. You can use household items as weapons, such as salt and pepper – which will attract their attention, as you try to make them follow you right into danger. You can try a variety of different trap set-ups, to see what is most effective, and you can be quite creative in your choices. There is a suprising amount of freedom in the game and you are not restricted to complete individual houses one at a time. The idea of setting up your own house of fun, is straight from the film and it is very rare that a video game based on a Movie is so faithful to the source material.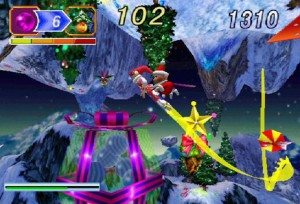 Christmas NiGHTS (SEGA Saturn – 1996)
Originally part of a Japanese SEGA Saturn bundle at Christmas, this two-level game was later given away with pre-orders or on the front of SEGA magazines. It seems strange that such a great game was given away for free, but one of the best ever Christmas titles was absolutely gratis. The game featured the Claris' Spring Valley level, originally from NiGHTS, but now enabled both of the in-game characters to play through the stage – unlike the original. The story is based around the fact that the Christmas star is missing from the tree in town, so the two kids Claris and Elliot set off to find it, with the help of NiGHTS.
Depending on the time of the eyar, the SEGA Saturn internal clock alters the game radically. In December, we are treated to Christmas NiGHTS, January and November give us Winter NiGHTS, and so on – including New Year's Day and April Fool's Day extras. But it is the Christmas version we are concerned with, where the background music changes to a re-working of Jingle Bells, and Christmas Presents are included as bonuses. These are level modifiers which needed to be unlocked, but then allowed you to play new modes, such as Sonic Mode – featuring the blue Hedgehog of the same name. These modes opened up new playable characters and ever-changing level designs, so the game could really last a long time – even though there were so few levels. And with the music, flashing lights, snows and Christmas decorations strewn through the levels, the game really gives off the holiday Spirit.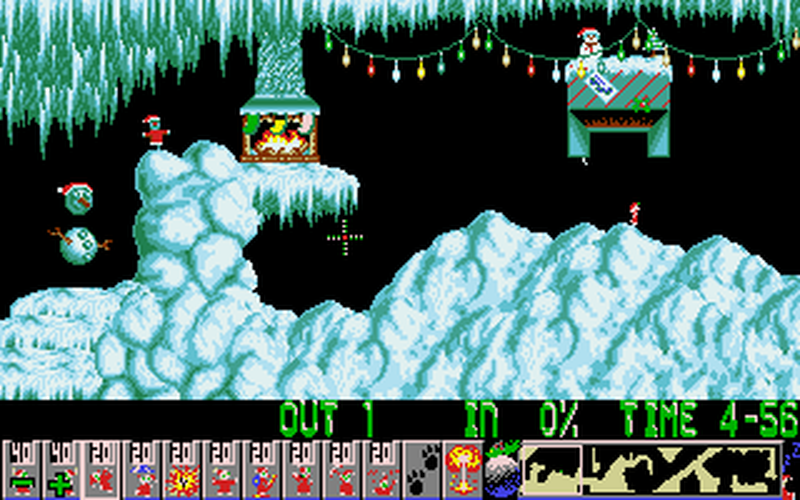 Christmas Lemmings (Commodore Amiga, PC , Apple Macintosh – 1991-94)
Following on from our latest Hall of Fame entry – the great puzzle game Lemmings – we have to mention the re-skin, Christmas Lemmings. First released as a four-level shareware demo in 1991 and again the following year, the game gained popularity and grew into a full retail release for 1993 and 94. All four versions featured different levels, but they were all based on the basic Lemmings core mechanics – and no additional skills or features were added.
The game simply gave red Santa outfits to all the Lemmings, and set the new stages in snow-filled locations, complete with Christmas trees and snowmen – even open fireplaces which can kill your Lemmings if they get too near. You still had to guide a set amount of your little creatures to home safely, using the same skillsets as before. The two retail versions of the game added different difficulty levels – and the last release even featured a few two-player levels, but all the games were basically the same premise. Coupled with festive tunes played in the background, the game gave a great Christmas feeling to an already great game, but compared to the huge number of levels you got in the core game, these Christmas expansions were woefully short. But then, they were only intended for play for a few days a year – and some were free, so you can't be too harsh on the game.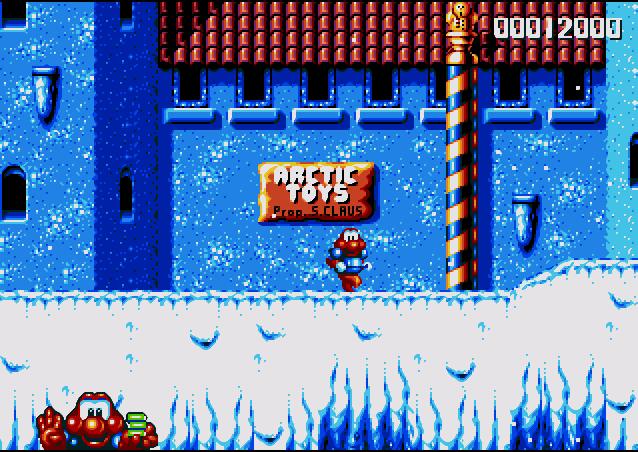 James Pond 2: Codename Robocod (Amiga, Amiga CD32, Atari ST, Commodore 64, DOS, Game Gear, GBA, PlayStation, Mega Drive/Genesis, Master System, SNES, Nintendo DS, PlayStation 2, PlayStation Network – 1991)
The name's Pond, James Pond. But rather than be a member of the British Secret Service, as in the first game, this sequel sees Pond take on the mantle of Robocod – half fish, half robot – who can now use his mechanical body to expand and reach new heights never before possible, as well as possessing super-strength and agility. Weird? Even stranger was the fact that none of the levels in this game actually featured underwater play – it was all land-based!
The idea was that the Evil Dr Maybe had infiltrated Santa's Toy Workshop on the North Pole and taken control. James Pond is called in to save the day and help Santa re-gain control of his factory so he can deliver toys to all the children of the world on time. The factory has doors all over it, and James enters each door to begins new stage to play through, where he has to jump on enemies to defeat them. There are vehicles to drive in from time to time and he can even pick up power-ups that allow him to fly! Flying fish, what will they think of next? Perhaps weirdest of all, the game featured adverts for Penguin chocolate biscuits, to further add to the arctic feel. The game is littered with snow-filled areas and even the odd Evil Snowman boss and you eventually get to meet Santa Claus and celebrate your victory with him – how can a title be more Christmassy than that?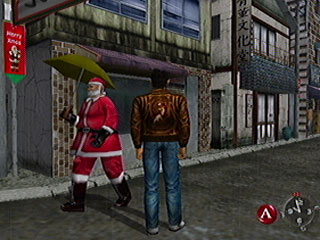 Shenmue (Sega Dreamcast – 1999)
Now whilst it must be said that the plot of the game has absolutely nothing to do with Christmas. The game is set in Winter in Japan, so the weather is suitably cold and it does even snow. As you progress through the game, time passes and the more you fail or the longer you take to complete the core objectives of the title – the later in the year it gets.
You eventually get to the point when Christmas is approaching and the town, Yokosuka, is decorated with Christmas lights and the like. You meet up with friends for a Christmas get-together and can wander through the nicely-decorated village. Not only that, but as seen in the picture above – a character dressed as Father Christmas begins walking the streets. Is it really Santa? Speak to the man and he will recommend you go check out the local shops to buy Christmas gifts for your loved ones. Really Father Christmas, or just a local marketing gimmick? You decide. But it definately makes the game feel more festive – in a weird, typically SEGA kind of way.
Most of the games in this article are not currently available to purchase new, but can be bought second hand from sites such as eBay. The God is a Geek Retro Corner is part of "Feature Friday" and will return on the first Friday of next month. You can see previous entries into the GodisaGeek Retro Corner by clicking here.