Worms Merchandise Will Make a Perfect Stocking Filler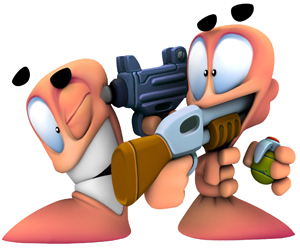 If you're like the rest of us and struggling for ideas as to what to buy loved ones for that looming date of 25th December, look no further than some Worms merchandise! Yes, those lovable yet destructive guys that star in Team 17's latest offering, Worms Crazy Golf are coming out with some sweet gift ideas for Santa Claus' arrival.
Up first, we have a…cuddly toy! – Generation Game…anybody?…no? – The Worms™ officially licensed "Super Sheep Plush" is based on the iconic weapon from the best-selling series. The "Super Sheep Plush" is an adorably cute 29cm plush, which also includes a sound chip that plays the Super Sheep's explosive fanfare when squeezed. The plush is available now from a variety of quality partners across Europe, including Amazon.co.uk, TheGeekestLink.com (United Kingdom), Amazon.de, Gamelegends.de (Germany), Fnac.es (Spain), GAME.se (Scandinavia) and Foregames.nl (Benelux), with more to follow soon.
Along with that, if you go to GB Posters you can pick up something to hang on your wall on Christmas morn.
More Worms merch is expected to be coming in 2012. But until then, here are two perfect festive stocking fillers for that special gamer in your life.