Aliens: Colonial Marines 'Contact' CGI Trailer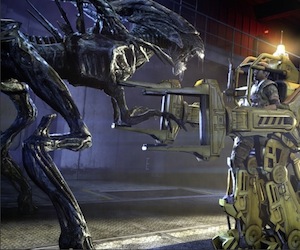 SEGA and Gearbox Software have today released a new trailer for the delayed Aliens: Colonial Marines entitled 'Contact'. Originally set for a Spring 2012 release on PlayStation 3, Xbox 360 and PC, the squad-based first person shooter has now been pushed back to an Autumn release.
"Aliens: Colonial Marines is a process of creativity and invention and those don't necessarily follow the structure of an assembly line," said a Gearbox representative, as reported by IBTimes.
"While setting clear goals, deadlines and predictions is helpful, they are often subjective. We don't want to sacrifice the creative process just for the sake of following a blue print. We prefer to have the creative discovery shape that blue print because our goal is to make a great game, and we are prioritizing this goal over the previously targeted date."
Delays aside, the CGI trailer is definitely worth a look, especially the last 20 seconds or so when you get to see a very angry Alien Queen. Check it out below.
Aliens: Colonial Marine is set to release this Autumn for Xbox 360, PlayStation 3 and PC.