See the New Assassin's Creed: Revelations Map in DLC Launch Trailer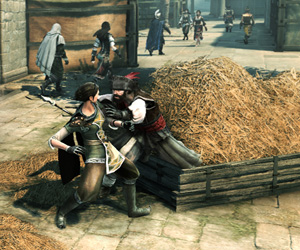 Today the new Mediterranean Traveller map pack for Assassin's Creed Revelations has been launched on Xbox 360, PC, and PS3 (On PS3 it won't hit Europe until tomorrow, as is the norm). To mark the occasion, Ubisoft have put together a launch video that gives us a little taster of the content included in the pack.
The pack features a selection of six maps to play through, three of which are brand new; Jerusalem, Imperial and Dyers, as well as three maps making their return as fan favourites chocies from Assassin's Creed: Brotherhood; Firenze, San Donato and Siena.
The maps offer great variety in scale, atmosphere and structure, and will make for some interesting bouts of multiplayer action. The multiplayer modes in the last two Assassin's Creed titles have been some of the most interesting features, bringing a successful stealth Deathmatch to gamers for the first time.

Check out the launch trailer below:
The Assassin's Creed Revelations Mediterranean Traveller Map Pack is out now, on Xbox 360, PlayStation 3 and PC. The DLC costs 800 Microsoft Points (£6.85) on Xbox 360 and £7.99 on PS3 and PC. Click here for our review of the full game, where it scored a respectable 8/10.