Diablo III Release Date Possibly Leaked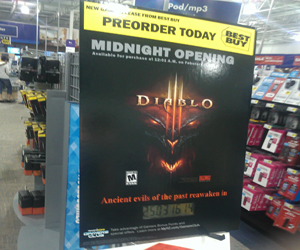 The American retail chain, Best Buy, have potentially let the cat out of the bag before Blizzard were ready to reveal the proverbial cat's arrival. A fan spotted a display in a Best Buy store in Rochester, Minnesota that stated Diablo III would see a North American release on 1st February and tweeted a picture of the display to a former Joystiq employee. The former Joystiq editor his former employers of this revelation and the tweet has since been pulled.
An employee at the store has confirmed the display is real and has said that, there is a midnight launch on that date in her store. Best Buy's online store has the same date as well. Over in this side of the world, UK retailer, Gameplay have Diablo III listed for a 3rd February release on their site.
Blizzard were asked for official comment and are yet to acknowledge what the internet knows. However, Community Manager Micah Whipple has since tweeted a fan about the incident, saying "We can't really keep every individual retail shop from making up a date". Is this Blizzard getting a bit peeved about the leak or is the release date misinformed? Seems like an annoyed Blizzard.
Source: Joystiq