Ni No Kuni Due for Release in Europe in Early 2013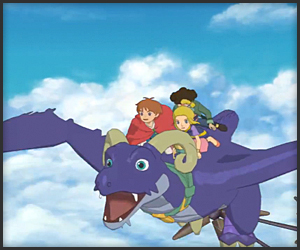 The long-awaited collaboration between Level-5 (the team behind the Professor Layton series) and Studio Ghibli (of Spirited Away fame), known as Ni No Kuni was confirmed for a European release late last year, and will be published by Namco Bandai on these shores. Well now, the team have announced that the game will be getting a full translation and will be due out in early 2013.
Namco Bandai are adding a full English voice track, as well as providing subtitles in French, Italian, German and Spanish languages. But Japanophiles never fear – you will still be able to play the game using the original Japanese voiceover track, with added English subtitles if that is your gaming preference.
Also, the game is getting a subtitle for its European release. Now known as Ni No Kuni: Wrath of the White Witch, the game is certainly one of the most-anticipated titles to emerge from Japan for quite some time. Combining the jaw-dropping visual style of Studio Ghibli with the addictive gameplay that Level-5 games are notorious for, this should be a marriage made in gaming heaven.
Ni No Kuni will be released in North America sometime in 2012, the European release is expected for early 2013. The Nintendo DS version was released in Japan in December 2010.
Source: Eurogamer.net