Simpsons Arcade Game Coming to XBLA & PSN Next Week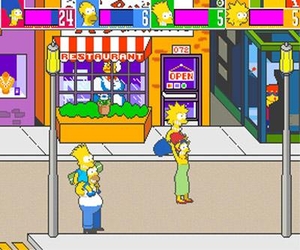 The classic Arcade game from Konami, based upon The Simpsons television series is finally coming to home consoles. After around twenty years, where no home version was ever ported by Konami, the game is being released on Xbox LIVE Arcade and the PlayStation Network next week.
The port has been handled by the same team who put together the recent port of the X-Men arcade game from Konami. And in the same vein, the digital-download release will also include the full Japanese version of the Arcade game – which , and some unlockable artwork as extras. But perhaps the most anticpated feature is the ability to play the title in four-player co-op, both locally and online – as the original arcade machine allowed players to play as the whole Simpson family, and to execute a range of different unique double-team attacks.
PlayStation Plus subscribers will be able to get the game for free within the first month of its release – which is a great deal. Konami had a reputation back in the day for creating great games based around licensed properties, and this one is no different. The game is bound to bring back many happy memories of untold hours spent at the local arcade, pumping in coins in an attempt to track down Smithers and Mr Burns, and to rescue the kidnapped Maggie.
The Simpsons Arcade will be available on February 7th (February 8th for European PSN users), and it will cost 800 Microsoft points on Xbox 360 or $9.99 on PlayStation 3. Simpsons fans should also check out our coverage of Bart's Nightmare in the Retro Corner here.