Alienware X51 Review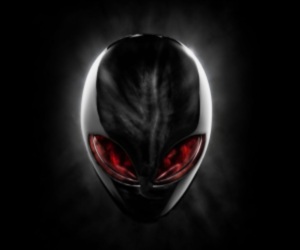 Model: X51
Manufacturer: Alienware
Price: From £649
Availability: Out Now
At around the size of an Xbox 360 and PlayStation 3, the Alienware X51 is definitely the smallest gaming PC we've ever reviewed. The form factor places the X51 somewhere between the console gaming and PC gaming markets in that, at the core, this is a gaming PC, but it's no longer restricted to the office or bedroom. This is a gaming PC designed to feel right at home in the living room. Hook this beauty up with a wireless mouse and keyboard and you can game directly from the living room TV. With rumours of Valve's impeding announcement of Steam Box, (bringing PC games to a console market), we wouldn't be surprised if the Alienware X51 was the first compatible device.
An important point to note however, is that despite its small size, the X51 features full sized, regular PC parts, which means upgrading and switching parts around is a piece of cake. It couldn't be easier; the case folds open, revealing all the expected components in a rather organised fashion. There is no power supply unit taking up room inside the case, the PSU is an external one, much like that of a laptop or games console. Every inch inside this case is carefully designed. The graphics card hovers above the rest of the components, in its own unique compartment, bridged to the main motherboard, making it the most accessible graphics card we've ever seen, and let's face it, as a gamer that's your key component, the part you're bound to upgrade most often. There is a ginormous case fan, explaining how Alienware managed to keep a powerful PC cool in such a small case. This computer does exhume quite some heat, but surprisingly little sound. In fact, not wanting to over-hype this computer, but it may be the quietest PC we've ever turned on. It's like a mouse, on tiptoes, in ballet shoes.
On the subject of form factor, it's probably no surprise to hear that the X51 weighs about the same as a PlayStation 3 or large laptop. It's really light. This probably has a lot to do with the fact that the PSU is external. Being light, small and powerful is nothing if this computer doesn't live up to Alienware's standards of design. But it's in this department that the X51 really comes into its own. It's sleek in a way that will blend in with your home entertainment tech, but at the same time it's rumbustious in that trademark Alienware way. With the LEDs dimmed to non-existence, the X51 won't offend your other half, and with the brightness set to full, using your custom colour scheme, the X51 will help you pwn in style at a gaming LAN party.
When put to the test, our high-end X51 (which prices up to around £899) ran every game we could throw at it, at high settings/resolution.
Intel® Core™ i7-2600 (3.40GHz, 8MB L3 Cache)
1GB GDDR5 NVIDIA GeForce GTX 555
8GB 1333MHz (2x4GB) RAM
1TB Serial ATA (7,200 rpm)
7.1 HD Audio and 802.11 a/b/g/n Wi-Fi and option BluRay Combo drive
The only negatives we could find in regards to the X51, were the mouse and keyboard. There's nothing particularly wrong with either of them, they're both very decent; they work. They're just not Alienware. They might be branded Alienware, but they're missing that certain wow factor that makes all Alienware products stand out in a crowd. They're plain and featureless. For instance, the mouse has no side buttons, no forward/back, and the keyboard has no macro keys. Any hardcore gamer is going to replace them with something fancier from Razer or Steelseries for example, and any home entertainment fan is going to pick up a wireless bluetooth set, so we're not sure why Alienware really bothered with these apparently re-branded Logitech peripherals.
When Alienware first announced the X51, we were excited, because it's something new and untested. But we were also cautious and a little anxious about where this computer would fit, which market would it appeal to? Well, after playing on this machine full-time for a while, it all becomes clear. The X51 is first and foremost a gaming PC, with the power for home gaming, the portability for LAN-gaming and the form-factor for living room gaming. But the clincher here is that it's also a casual PC, in that it's your living room media centre, your bedroom blu-ray player and it's your work PC. But the X51 doesn't appologise for being casual, it's the Bruce Wayne of casual PCs; when the day is over, the spreadsheets and media players hid away, the lights come on and the hardcore ass-kicking begins.
[nggallery id=791]
The Alienware X51 is quite easily the most diverse Alienware machine to date. It may even be the most diverse gaming computer on the market. That might sound like an oxymoron, but it really is a gaming PC, that's not just for gaming. Sure, that could be said about your full-tower beast, but would that fit under your TV?
Starting at £649, the X51 is a steal.