Transformers: Fall of Cybertron, Release Date & First Gameplay Trailer!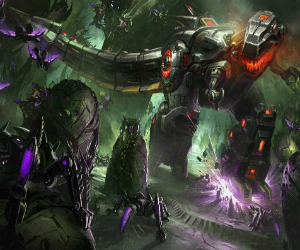 High Moon Studios have released two new videos today for the hotly anticipated Transformers: Fall of Cybertron.
Fall of Cyberton is the follow up to 2010's War of Cybertron, the game received positive reviews and was certainly a bigger hit with fans than the recent Hollywood blockbusters. Described by High Moon as a nature successor rather than a true sequel, Fall of Cybertron looks to improve the fundamental ideas of the first game.
Following on from the events of the first game, a possible salvation lies in a faraway blue planet discovered orbiting a yellow sun. A planet whose energy resources could save the Transformers from extinction. But who will reach this new planet first? Featuring series favourites like the Dinobots and Bruticus, the gameplay potential for this game seems limitless.
The first video shows the continuing battle on Cybertron and an epic clash between two bitter enemies.
The next video is an exclusive look behinds the scenes with developers at High Moon Studios.
Activision confirmed today that Transformers: Fall of Cybertron will hit August 28th in the US. European gamers can probably expect the game to release a few days later on August 31st.