Minecraft 1.2 Update is Out Now, Given Awesome Trailer by Hat Films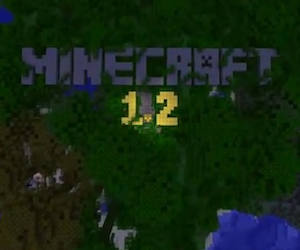 Mojang has today announced that the 1.2 update for Minecraft has gone live. The update brings a whole host of new features, including zombies with new AI, ocelots that turn in to cats when trained and iron golems who will protect the villagers.
Here is a list of some of the new features (courtesy of Mojang) of 1.2, which is now 1.2.2 due to birches and pine trees being added.
New jungle biome
Added ocelots
Added cats
Added iron golems
New AI for mobs
Tame wolves can have puppies
Villagers will have children if there is room in their village
New map height limit (256 instead of 128)
New items and blocks
Doors have been updated so that double-doors work better with redstone
Added rare drops for mobs
Many other minor tweaks and fixes
Check out the trailer for Minecraft 1.2 below. It's pretty funny and shows off the new features to great effect.We also threw in the "making of" video for good measure. Oh, and you can also download the map from the trailer here.
The update is out now, get it by updating the game in the Minecraft launcher.
Thanks, Mojang.