Prepare to Write off Your October – BioShock Infinite Street Date Announced
We now know when one of this year's biggest games will be hitting store shelves. Bioshock Infinite will be available October 19th worldwide, with U.S gamers getting to pick it up three days earlier on October 16th on Xbox 360, PS3 and Windows PC.
The game, developed by original BioShock developer Irrational Games, sees you step into the shoes of former Pinkerton agent Booker DeWitt, who is sent to the floating  air city of Columbia to rescue a young women named Elizabeth, who has been held captive there for the last 12 years. Though the rescue turns out to be easy, the two are pursued by the warring factions of the crumbling city. Like in the BioShock games that came before Infinite, you will use a combination of weapons and plasmid powers to battle your way through the game. Infinite looks to be a more expansive title, since the open air nature of Columbia looks to offer more of a challenge combat wise than the narrow spaces of underwater city of previous games, Rapture.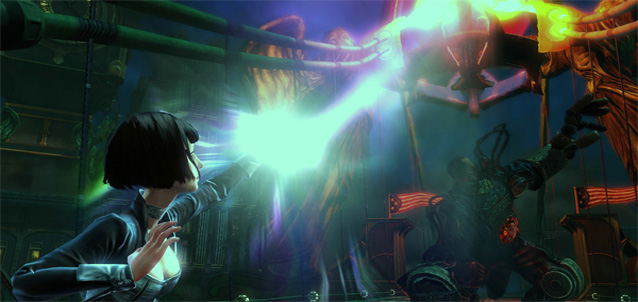 There are of course many reasons why you should be excited about BioShock: Infinite, not least because it is being developed by the developer of the phenomenal original, Bioshock. Its sequel BioShock 2 was largely offloaded to a different member of 2K's development arm, and the game turned out to be a bit of a disappointment. Four years in the making, Infinite looks set to be the sequel we have been waiting for since we finished our first tour of Rapture back in 2007. Our own Mark Bridle had a chance to play BioShock: Infinite in June of last year, and it left him utterly enthralled:
"Bioshock Infinite is a brand-new game that offers the gamer a brand new experience. Ken Levine and his team have not been afraid to take chances, introducing new emotions and a very new world to the series but not at the cost of the core themes and emotions that belong in a Bioshock title. It was an astonishing demonstration that thrived because the of the imagination and love that has gone into the title.
I loved it. I can't wait for it. And my heart is still pounding through my chest."
You can relive the full preview by clicking here, and stay tuned to GodisaGeek for more on Bioshock Infinite.