SOE Release Incredible New Planetside 2 Video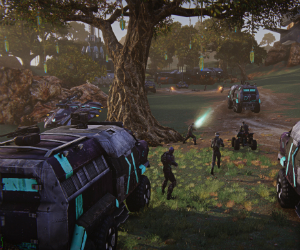 Sony Online Entertainment have today publicly unveiled a video for Planetside 2, that was first shown at this years GDC.
Planetside 2 is a MMOFPS built on Sony's new "next generation" Forgelight Engine. Featuring enormous continents, massive multiplayer battles, infantry, air and vehicle combat, Planetside 2 is already looking stunning and it's only in its Alpha stage.
The aim is to provide large scale environments for huge battles but at the same time provide minute-to-minute visceral gameplay just as you'd fine in any top FPS. SOE claim Planetside 2 will "redefine online gaming", a bold claim by anyone standards.
Take a look at the video below to see Planetside 2 in action. Has Planetside 2 captured your interests, will it be able to live up to its promises?
 No release date has been announced but players can sign up for the beta right now, here.