Star Wars: The Old Republic Receives Huge Update 1.2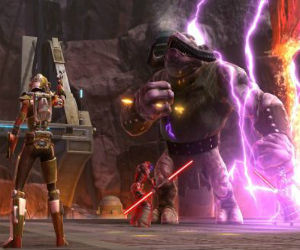 Bioware has just released Game Update 1.2: Legacy, which brings a whole host of new content, changes and fixes.
The update really focuses on bringing new high level gameplay content for players who have already hit the level cap, including an evolution of the Legacy System. This feature ties all of your characters together into one family, regardless of class or faction, this allows them to unlock new custom abilities. Other popular communtiy request have also been included like a customizable user interface and guild banks.
Bioware has also included a number of rewards to thank players who support the game:
 All subscribers with active game accounts on April 12, 2012 or April 21, 2012 will be rewarded with an in-game Legacy Reward: the Tauntaun Ram Pet via in-game mail.
New players who subscribe to The Old Republic before April 21, 2012 will also receive the Legacy Tauntaun Ram Pet.
All active subscribers who have achieved a level 50 character by April 12, 2012 will receive 30 days of game time at no charge as a reward for their loyalty to the game.
Former subscribers with inactive accounts are invited back to play Game Update 1.2 for up to seven days at no charge starting April 13, 2012.
Dr. Greg Zeschuk, Co-Founder of Bioware has this to say:
"Game Update 1.2:  Legacy is a huge milestone for The Old Republic and clearly demonstrates what we mean when we talk about this game being a full-fledged, ongoing service".
The other major additions in the update are:
Flashpoint: Lost Island – continues the story of Flashpoint: Kaon Under Siege from Game Update 1.1
Operation: Explosive Conflict – sends players to a new zone on the planet of Denova.This Operation is for groups of eight or sixteen Imperial or Republic players with characters at level 5.
Warzone:  Novare Coast – pits two teams in an epic battle to control multiple mortar locations and use them to bombard vulnerable enemy bases. Like all Warzones, Novare Coast is available for characters over level 10.
So are you still playing The Old Republic or did issues with the game at launch have you going back to games like WoW? What's your favourite new feature in update 1.2, and what do Bioware still need to add?
For more information on update 1.2 visit StarWarsTheOldRepublic.com.