Mad Catz Announce Damage Inc. Pacific Squadron WWII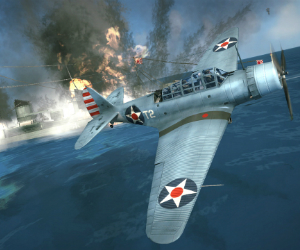 We all know that Mad Catz create some pretty nifty peripherals, a few of which we've reviewed here at GodisaGeek.com, but did you also know that they're also dipping their toes into the game creation side of things? Well, no you do. Today Mad Catz have announced Damage Inc. Pacific Squadron WWII, an arcade style aerial combat game which contains 20 hours of gameplay, multiplayer and co-op modes as well as over 30 aircraft for you to get your hands on.
Excited yet?
Why not check out the trailer below and see if that whets your appetite a little bit more than these words do:
Mad Catz have also announced that they'll also be released a collector's edition of Damage Inc. Pacific Squadron which will come with its own peripheral (come on, it would be Mad Catz if there wasn't a peripheral in there somewhere!), a very sexy looking flightstick.
Damage Inc. Pacific Squadron WWII will be coming to the Xbox 360 and PlayStation 3 this summer. If you're going to E3 Mad Catz have also said that the game is going to be playable there, so what are you waiting for?!?
[nggallery id=888]