Ms. Splosion Man TMS Challenge 4, Win Twisted Pixel's Next Game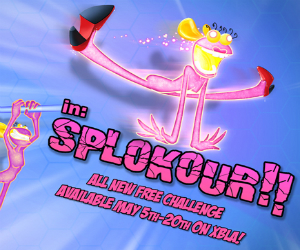 Twisted Pixel are set to announce their next game at E3 in June, you can bag yourself a free copy by taking part in the Splokour challenge starting this weekend on Ms. Splosion Man.
The 4th in a series of themed challenges for Ms. Splosion Man, Splokour will see the top 5 people on the leaderboard win Twisted Pixel's next game, which is sure to be a smash hit judging by their previous efforts.
Splokour will challenge players to guide Ms. Splosion Man through an entire level without touching the ground. Precision is key because every time her feet hit the floor, 10 seconds will be added to final time.  As well as winning a copy of Twisted Pixel's next game, the top 5 players will also receive a Ms. Splosion Man plushie, which I suggest you handle with care!
[nggallery id=891]
The challenge will be open from May 5th – 20th, giving you plenty of time to nail the perfect run. You'll find the challenge on the main menu of Ms. Splosion Man.