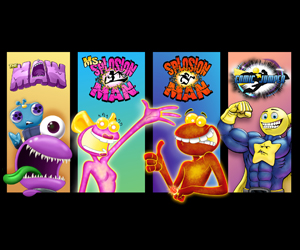 Who doesn't love a bit of Twisted Pixel? How about a LOAD of Twisted Pixel? From today, you can pick up the Texas based studio's XBLA back catalogue for the delightful price of 800 Microsoft Points.
The Twisted Pixel Games Bundle includes 2009's The Maw and 'Splosion Man,  the 2010 release Comic Jumper: The Adventures of Captain Smiley and the game that had GiaG hooked for quite some time in 2011: Ms. 'Splosion Man. When the games first launched on the service, they were all 800 Microsoft Points, each – bar Comic Jumper which was 1200 points, originally.
The Marketplace listing for the bundle points out that there is no additional discount for those that may own one or more of the games contained in the bundle, but even if you do, it's still a pretty sweet deal.