Rockstar Unveil All-New Social Club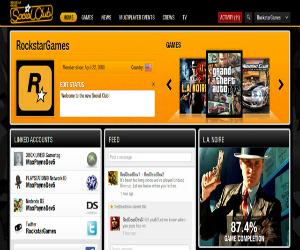 With Max Payne 3 almost here and GTA5 on the horizon Rockstar have decided to relaunch their Social Club.
In a total overhaul Rockstar have added tonnes of new features to ensure everyone can make their mark on the Rockstar community. This Wednesday you'll be able to start registering and building your crews ahead of the Max Payne launch next week.
YOUR SOCIAL CLUB PROFILE PAGE –  Get in there and personalize your own Social Club profile page, complete with status updates, a display of your recent stats and accomplishments across your linked Social Club enabled games, and proper Friend linking.
UPDATE YOUR ACTIVITY FEED – Keep tabs on all your Friends latest accomplishments via your real-time activity feed. With the release of Max Payne 3, you'll be able to let friends know each time you've unlocked an achievement or throw down the gauntlet for a multiplayer session.
ADD YOUR FRIENDS – You can search and add Friends that are current Social Club members and also find, import and invite mates from your Facebook, Twitter and gaming accounts too.
LINK IN & LOG IN WITH FACEBOOK OR TWITTER – You can also link in and display your other profiles from Facebook and Twitter (as well as your PlayStation Network IDs and XBL Gamertags) direct to your page.
Are you a member of the Rockstar Social Club, if so what do you think of the changes?