New Halo 4 Details Including Multiplayer & Limited Edition Contents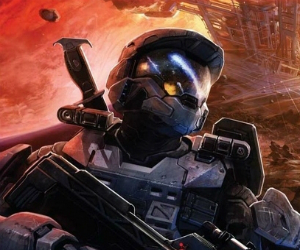 Microsoft and 343i have decided to release some brand-new details regarding one of year's most anticipated games, Halo 4.
In addition to the game's main campaign, fans can look forward to Halo Infinity Multiplayer, which 343i say will innovate and redefine the way people think about storytelling and multiplayer experiences.
The central hub for all Halo 4's multiplayer modes will be the UNSC Infinity, the largest ship in humanity's fleet. It is from here players will be able to customise their Spartan-IV soldier and manager their progress across both competitive and co-op modes. The UNSC Infinity will merge the Halo fiction into the multiplayer experience like never before, a key focus for 343i in their first Halo title since taking over from Bungie.
Spartan Ops is the new mode detailed today, and at first glance it seems very exciting indeed. The story of the UNSC Infinity will intersect with the game's main campaign, then continue on in a brand-new, story-driven experience. Spartan Ops seems like a genuinely innovative mode described as "immersive storytelling, high-quality cinematics, and action-packed gameplay that will deliver an unprecedented serialised experience."
Through a weekly series of cinematic episodes on Xbox LIVE, Spartan Ops will tell the continuing story of the UNSC Infinity, following the events of Halo 4. These episodes will centre on the UNSC Infinity leaders and crew, and a new team of Spartans – Majestic Squad. The cinematic episodes will provide the backdrop for the weekly Spartan Ops gameplay missions. Playable in single-player or cooperatively, explore the corners of Requiem in these objective-based missions, and help uncover the secrets of the mysterious Forerunner world.
War Games is the name given to Halo 4's competitive multiplayer modes, just like the campaign 343i aim to bring their own vision and ideas into the games multiplayer area, although they stress it will still feel distinctly "Halo".
Player progression in Halo's multiplayer has previously been limited to rank and aesthetic upgrades, but not so in Halo 4. Players will be able to unlock equipment and specialisations, allowing for a more tailored experience. Upgrades and unlocks will be universal across both competitive and co-op modes, meaning no matter what you do, you'll always be improving your Spartan.
Along with all the new multiplayer information, Microsoft also revealed what fans can expect from the game's limited edition. Unlike previous titles Halo 3 and Reach, there doesn't seem to be a Legendary Edition, at least not at this point in time.
The limited edition version of Halo 4 is available to pre-order today and will include:
War Games Map Pack Access – The Limited Edition includes access to nine maps – three future competitive multiplayer map packs, each including three locations, available for download post-launch on Xbox LIVE.
Specializations – Receive early access to six Specialisations, to achieve higher ranks in your Spartan career.
UNSC Infinity Briefing Packet, which includes an armour customisation schematic, a blueprint of the massive ship itself, and insight into what it means to be one of humanity's finest warriors: the Spartan-IVs.
Bonus digital content through Xbox LIVE. Unique in-game Spartan-IV armour skin, in-game weapon skin for the Assault Rifle, an exclusive in-game emblem, Xbox LIVE Avatar prop, and Avatar Spartan-IV armour set.
Halo 4: Forward Unto Dawn Special Edition – An extended 90-minute version of the live-action digital series that will bring the Halo universe to life as you've never seen it, and provide an enthralling backstory leading up to the events of Halo 4.
So a lot of information there, what excites you most about Halo 4, will you be picking up the limited edition version of the game?
Halo 4 will hit Xbox 360 on November 6th, the limited edition version will cost £69.99/$100