Ni No Kuni: Wrath of the White Witch Hands-On Preview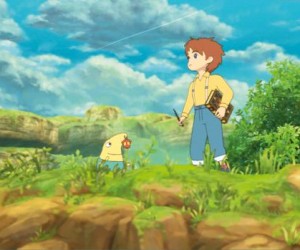 At first glance, it seems obvious what Studio Ghibli brings to Ni No Kuni: Wrath of the White Witch. The animated cutscenes that punctuate the action are full of the japanese animator's trademark blend of beauty and whimsy, with architecture inspired by a subtle mixture of eastern, american and european. Nothing short of what you would expect from masters of the form. Spend a little more time with Ni No Kuni however, and despite Ghibli only being credited for working on the animated sections, it is clear that Miyazaki's studio has managed to infuse Ni No Kuni with the other quality that his movies have in spades; heart.
Level 5 must be aware of Ghibli's influence. They must have wanted it, because they have absorbed it like a huge sponge. A sponge designed to absorb love and hope and best wishes. They absorbed all these good feelings and then wrung themselves out all over a game that European audiences have been waiting for since last year and will finally get to play in January 2013. The wait looks like it might be worth it.
Heart and love are huge parts of Ni No Kuni, both the design and the game itself. The story starts with the player character, Oliver, causing his mother's weak heart to fail, after he snuck out for the night to test his best friend Phil's newly built go-kart. Wracked by grief and locked in his room, Oliver's tears free the spirit of Drippy, the "Lord-High Lord of the Fairies", from his doll. Drippy then transports Oliver to a parallel where he must free the the people from an evil djinn called Shadar and, just maybe, find the power to save his mother. The strength of heart theme continue apace in Drippy's world, with Shadar punishing all those who oppose him by "breaking their heart".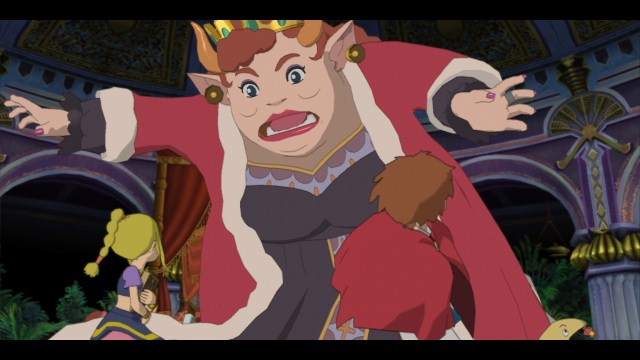 By stealing one of the elements of a persons heart, either virtue or courage, Shadar leaves his victims an emotionally numb husk, unable to do anything but stand in silence, not dead but not fully alive. The metaphors are all very on the nose with plenty of exposition early in the narrative, so it is left to the characters to carry the story and they do so effortlessly. Oliver, despite the loss of his mother, is plucky, polite and unflinchingly likeable, at times unflinchingly brave, often sad but never sniveling. Level 5 have learnt yet more lessons from Studio Ghibli; little Oliver in his red cape is a wonderfully drawn child character, utterly worthy of being the successor to the lineage of strong Ghibli children. Much of this owes to the strength of the voice acting, but here even Oliver plays second fiddle to Drippy. The two foot tall yellow fairy, with the Simon Cowell waistband and lamp pierced through his nose, is the star of the game's early hours. Voiced in a thick welsh accent, Drippy is Oliver's guide into a parallel world, chiding, teaching and pushing Oliver into saving the day. Drippy proves irrefutably that Ni No Kuni is not a game that will be crushed by its own whimsy, it has a real sense of humour too. An early scene sees Oliver and Drippy searching for a magic wand. Frustrated, Drippy tells Oliver to go and look for something "brown and sticky". A silly joke, but one that fitted in wonderfully with Drippy's forthright and slightly ill-considered manner of delivery.
That sort of exuberance is necessary early on. Despite the originality of the appearance and the setting, Ni No Kuni is resolutely a JRPG, with a heavy focus on story and unique gameplay systems all part of the experience. Slowly teaching the player the way it all fits together means that Ni No Kuni is, from a gameplay perspective, very slow out of the gate. It isn't until the player casts their first spell, opening an opulent gateway, complete with marble columns and a grand-arched tunnel straight from the Ghibli playbook, forty-five minutes in that it starts to become clear exactly what type of JRPG this is going to be. The player navigates Oliver through an over-map which – and forgive my age here – reminded me instantly of Final Fantasy VII's rich colour palette and lush vistas.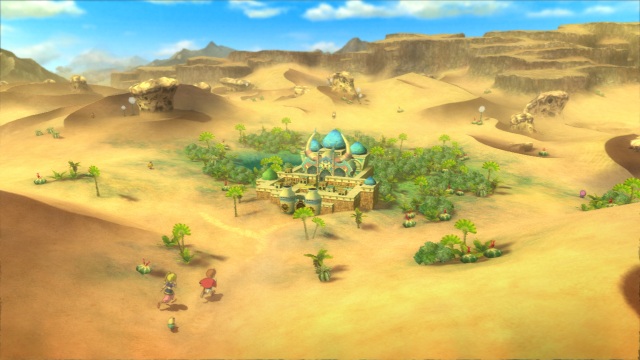 The FFVII comparisons end there though, as the fights are not random battles. Monsters patrol all over the world and can be attacked front on or circled and attacked from behind. The beasts will try and fight back however, occasionally hiding in the woods and attacking the player from behind to get an advantage in the upcoming battles. These battles start simply enough. Oliver can attack enemies, defend or cast magic, each option selected from a menu using the D-pad, whilst the character is moved in real time with the left stick. This combination can lead to some fiddly moments early on until you realise that you are not playing an action game and that the choice to dodge with the left stick comes at the expense of the other combat choices available to the player. Again, we are deep in JRPG country now and this scheme won't please everyone, but those who persist will quickly find their own rhythm and the early skirmishes seem to hang together well.
It isn't for a while yet, after the player's first visit to Ding Dong Dell and the Magic Forest, that battles become anymore than Oliver chasing colourful birds, duck dinosaurs and overly-aggressive plants and giving them a slap with his wand. However, when the player unlocks Familiars, small monsters and warriors created by the strength within Oliver's heart, that the strategy of battle begins to develop. The player can opt to swap between Oliver and one of three familiars in any battle (only one – Mitey – was available in the time in my time with the game) and each familiar can learn "tricks", special moves that damage the opponent in different ways.
An obvious early strategy when fighting a group foes was to use Mitey's special move, an 'attack all' quick slash, to weaken all the enemies then use Oliver to come in and bash them all to oblivion. It is difficult to speculate too far, but as the player's party grows (clips from the trailers show multiple human characters each attacking with their own familiar) the opportunities to combine the particular powers and balance your team would appear to be endless. Here's hoping that Level 5 can do justice to the exciting character art and deliver interesting character variety and design.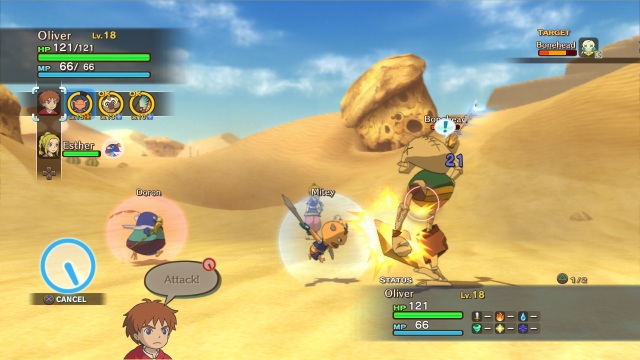 Towards the end of the ninety minutes was the first boss encounter. A forest guardian, corrupted by Shadar, is running rampant and needs to be stopped. Here, more depth to the combat is shown. Oliver and his familiars share a health and magic point bar; damage to one is damage to all. Mitey can't heal himself, so using him is risky as the boss has some particularly damaging attacks. However, the fight starts against multiple opponents, vulnerable to Mitey's attack-all special. The player can instantly switch between familiars and Oliver with a tap of L1, and managing the relative strengths and weaknesses of the party is key to success. Well, it's one of the keys. The other key is spotting when the boss drops a gold "glim", an orb that provides instant healing and the ability to use a devastating special attack. Blue and Green glims, which heal magic and health respectively, are dropped frequently, but these gold glims seem rarer. Using this special move ends the fight and sends the boss packing, apparently cured of Shadar's curse.
All of this learning (the glims, casting spells, familiars) is logged in the 'Wizard's Companion', a spell book given to Oliver by Drippy which acts as your in game compendium and instruction manual, and it's beautiful. The nearest comparison to it is when you first read a particularly lush magazine on an iPad; the pages are rich with detail and beautifully drawn. Collecting the pages that fill out the bestiary will doubtless be a real treat, and completed 'Companions' a point of pride.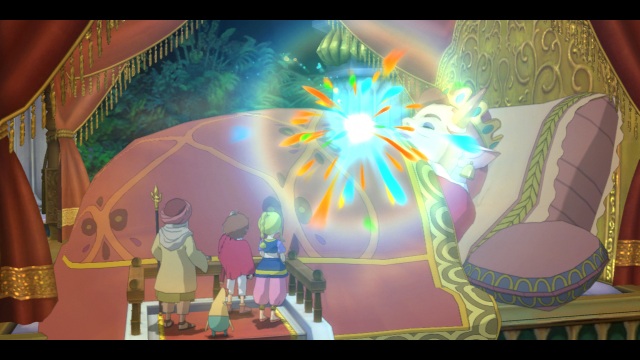 It isn't the only thing in the game that is beautiful though. One of the biggest compliments that can be given to Ni No Kuni is that the game is so fun and the story so riveting, that it has taken until now to talk about the graphics. The bar is set by the animators at Ghibli; the cutscenes that illustrate Oliver's hometown of Motorville, perfectly imagined as small town America with strong Euro-architecture straight from Howl's Moving Castle, and Drippy's world are as entrancing as you would expect from the Japanese Studio. But Level 5 punches its weight. The difference between cutscene and in game graphics is noticeable but slight, with Oliver, Drippy and co just as convincing in 3D as in 2D. The beasts you meet, both friend and enemy, are just as creative and visually interesting. Not only that, Level 5's designs are strongly original, more an amalgam of classic JRPG enemy tropes with a Ghibli aesthetic, than an attempt to copy the style of Miyazaki's studio outright.
Ni No Kuni is a game about love and heart. With quite a few months before its European release, and just some localisation issues between Level 5 and the finishing line, it is clear that it was built with a lot of heart as well. The respect and passion the developer has shown the animators at Ghibli is clear in the core the story, the world and all the wonderful touches that gives this game the potential to be a perfect crossover between two different but equally talented teams. As much as the Ghibli crossover gives Ni No Kuni mainstream appeal, it is still a JRPG, and if slow starts and esoteric systems turn you off, then it is possible that no amount of passion, of whimsical character design and of emotive story telling will make you love Ni No Kuni.
But all that really says is that Ni No Kuni: Wrath of the White Witch probably has a bigger heart than you.
Ni No Kuni is set for an early 2013 release, exclusively for PlayStation 3.
[nggallery id=964]