Mobile Monday – President's Run, Top Gear: Stunt School Revolution, Tiny Troopers, Dream Inn: Driftwood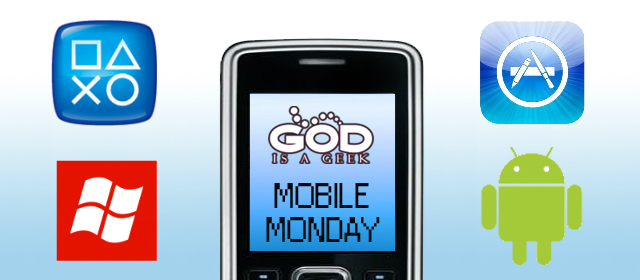 Guess what people, it's Monday again and that can mean only one thing here at GodisaGeek.com: It's time for another edition of Mobile Monday, the article where we take a look at four mobile games and let you know if they're worth your time and money.
This week we're taking a look at President's Run from React Games, Top Gear: Stunt School Revolution from BBC Worldwide, Tiny Troopers from Kukouri Entertainment and Dream Inn: Driftwood from Crown Adam AG.
Read on to find the full reviews of each game and don't forget to come back next week for the reviews of another four games. While you're here, if you have played any of the games listed, or even just want to come back once you've had a go to let us know how you got on, we'd love to hear from you in the comment box at the bottom of the page.
Get downloading and get playing!
Titles are available on iPhone and iPad unless specifically stated otherwise. If you like what you read, click the small black "App Store" button to load iTunes up and purchase the title!


PRESIDENT'S RUN:
A lot of games that I've played and reviewed for Mobile Monday have made me chuckle to myself, sometimes even as much as an audible laugh, but none have made me do it as often as President's Run, developed by React Games. The whole premise revolves around the idea of prospective Presidential candidates running for office, except instead of all the boring paperwork that something like that would usually involve if it was to be conducted in the real world, these potential Presidents are literally running for office; from the left hand side of the screen to the right, collecting votes as they go.
The gameplay plays just like the thousands of other games that task you with running from the left hand side of the screen to the right. The running is done automatically so you don't have to worry about that, all you've got to think about is jumping over the many obstacles that will be littering your path. Your main objective is to collect as many votes as you can for the candidate that you've picked to do the running, the more votes they get, the higher up the "food chain" they'll be able to go. You'll also, just like any other of these running games, be able to simply compete to get the furthest; how you decide to play the game is entirely up to you.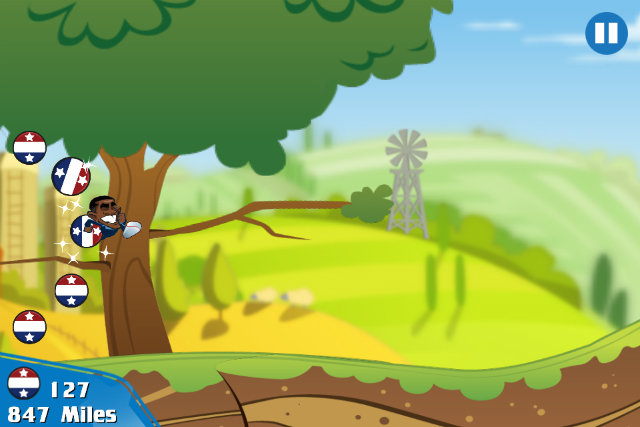 As you would expect from a free game, there are micro-transactions involved. These aren't invasive in any way and work exactly how micro-transactions should, they help the player achieve the higher scores if they feel that they can't get to the levels they want to on their own. All of the micro-transactions that you'll find inside President's Run are completely optional, you can take your time with the game and, eventually, you'll be able to get to where you need. Or you could just pay for it, it's your choice.
The controls of the game allow anyone to play the game. The only input that the game needs from a player is a single tap in order to make the character jump, everything else is done automatically. At the later levels it might be difficult for people with a slower reaction time to keep up but that's why it's a game, if everything was easy to do it wouldn't be all that exciting really.
President's Run is one of the better games of its ilk, blending together exciting and entertaining gameplay with an art style that just makes you want to come back to it over and over again; even if it's just to look at the hilarious caricature style representations of the potential presidents of the United States (both past and present). The ability to unlock even more runners using the votes that you've collected while playing makes it easy to keep playing. If you're looking for a bright, vibrant and hilariously funny game to take your mind off of your working week, if only for five minutes at a time, then give President's Run a go.


TOP GEAR: STUNT SCHOOL REVOLUTION:
We've all seen an episode or two of Top Gear, whether it's when they're on BBC2 or if you've flicked on to Dave at pretty much any point during the day and seen it on there. It was only a matter of time before the BBC realised the potential in the series as a set of video games and Top Gear: Stunt School is what we are treated with. Top Gear: Stunt School Revolution, developed by BBC Worldwide is the second game in the Stunt School series, but is it as entertaining as its TV counterpart or is something that should be destroyed just like the plethora of caravans have thanks to the Top Gear team?
There are various aspects to the gameplay but the aspect that you'll be concentrating on the most while you're playing Top Gear: Stunt School Revolution is using a variety of cars to jumps across gaps of differing sizes in an attempt to gain medals, money and most importantly considering this is a game based on a TV shows, viewers. The more of each you have, the further you can get into the game, unlocking more and more jumps, allowing you to earn more and more money, etc. The cycle has the potential to repeat itself ad infinitum.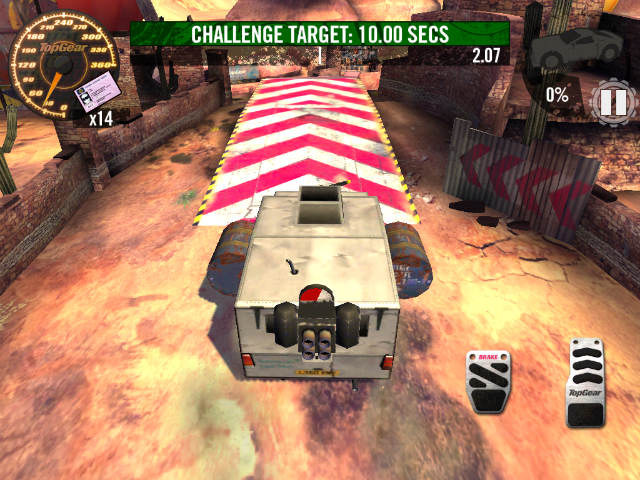 You're limited to how many times you can attempt each of the levels by how many permits you happen to have at any one time. You get one permit every four minutes up until you've got a maximum of fifteen. Once you've run out of permits you can no longer play the game until you either wait for more of them to generate or by doing the thing that we've gotten used to seeing in games such as these; buy them. You didn't expect everything in the game to be free did you?
The controls that you'll be given are simple enough if you're willing to spend the time needed to learn to use them properly. On paper the controls should be fine but when you actually get down to using them they feel a little bit over-sensitive. It's the kind of thing that you will get used to after a little bit of use but for those people that are picking up the game for the first time, they might find it a little bit difficult. The on-screen controls aren't as bad as the touch controls but both of them make the game a little bit too easy to lose to begin with.
The freemium model of games is most certainly here to stay. When it started making an appearance it was a little bit annoying, but with games like Top Gear: Stunt School Revolution people can finally see that it can be a good thing. People will finally be able to see that they can play decent quality games, that work just as well on the original iPad, without spending any money at all; unless they really want to spend their hard earned cash, then the option is in there for them.


TINY TROOPERS:
There have been quite a few tactical based games released on the iOS App Store now, some of them good but quite a lot of them have been terrible messes that do nothing except look good in the screenshots and rake in money for the developers. I was a little apprehensive when I started to play Tiny Troopers, developed by Kukouri Entertainment, for that reason alone but as soon as I loaded up the game, saw the Chillingo logo and started playing through some of the tutorial, all of my fears were quashed. Tiny Troopers was starting to look like a game that could actually be entertaining.
The gameplay tasks the player with completing a set of objectives on the battlefield, these can range in difficulty but they mostly involved destroying all of the enemies that are dotted around, as well as all of their buildings. There are many ways you can go about this, but by far the most entertaining is forcing the enemy to walk next to an exploding barrel and blowing said barrel up with a well-placed shot. How you complete the level is entirely up to you, as long as you complete all of the objectives that you're given then nobody is going to care too much about how exactly you went about it.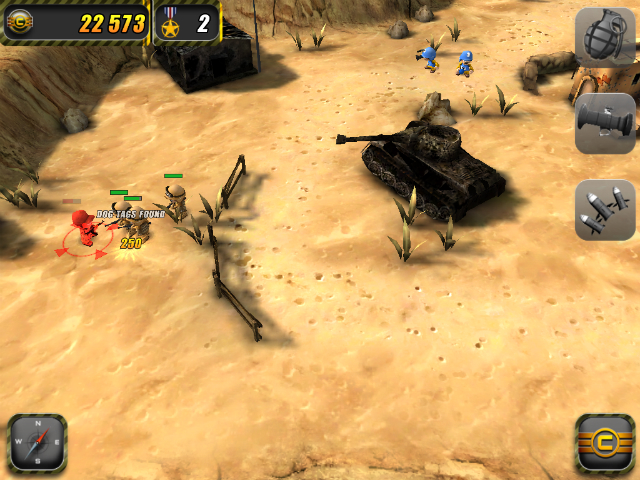 For people that are looking for a little bit more of a challenge or longevity from their mobile games, Tiny Troopers offers that star system that is offered in most mobile games these days. There are a total of three stars to be attained on each level and these are achieved by getting the most points (usually by collecting the many valuables, dog tags and medals that litter each of the levels) as well as finishing the level as quickly as possible. It's extremely difficult to get the full three stars so even the people that thought the main game was a little bit too easy will be able to find a bit of challenge in this aspect of the gameplay.
The controls in Tiny Troopers is also extremely simple to get to grips with, all you're going to need is a single finger to control the gameplay. Tapping an area of open space will issue the command to your troops to move into that spot while tapping on an enemy, an exploding barrel or one of the other destructible objects in the game, will tell your characters to shoot to kill. A lot of the gameplay lies in the tactics, not the ability to do things quickly (unless you're attempting to get the aforementioned three stars) so a lot of people would be pleased to know that you're not going to have to grow an extra arm just to play Tiny Troopers, something that's seemingly required with other, lesser designed, iOS games currently on the market.
If you've been craving a new tactical based game for your morning commute to work, something that runs fantastically well on almost all iOS devices and looks great while it's doing it, then you should certainly give Tiny Troopers a go. The aesthetics alone should get you wanted to play more and more, then, once the real gameplay kicks in, you'll be hooked.


DREAM INN: DRIFTWOOD:
A lot of us love a good searching game from time to time, whether that's something as simple as eye spy or a little bit more complicated like a point-and-click adventure PC game; chances are good that we've all at least played one, probably enjoying it too. Dream Inn: Driftwood, developed by Crown Adam AG is half search puzzle game and half management game and while that may sound like you'll be spending equal time in both aspects of the game, that's not the case. If you're going to even download Dream Inn: Driftwood you should probably make sure that you enjoy the search puzzle aspects.
The first aspect of the gameplay revolves around searching the many rooms of your Dream Inn for the objects that you'll see along the left hand side of the screen. If it says you've got to find a life ring from a boat, then there's going to be one in the room somewhere and it's your job to find it. After a lot of searching you'll eventually find everything that you can in the room,and it'll be moved into one of the other rooms of the inn. Once you've found a certain amount of objects from one of the rooms, it'll be unlocked and you'll be able to perform the same action in those rooms. The main objective of the game is to sort through all of the rooms in the inn.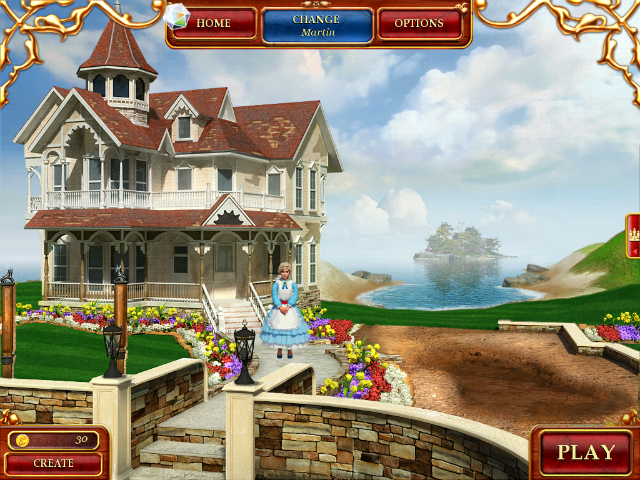 The other aspect of the game is the management portion, where you use the money the you find in the rooms to upgrade your inn. Starting off with the walls around the front of the establishment until everything you can upgrade is all upgraded and new. Then you can start earning money for running the inn, which is the whole point of the exercise.
Playing Dream Inn: Driftwood is amazingly simple to do, all you need to do is tap on the items you find on the screen and they'll be collected. In some of the other rooms, where you need to take the items you've found in the previous rooms and put them in their rightful place in the current room, you'll have to drag the object from a bar at the bottom of the screen into the place where you think they belong. If you're correct then the item will snap into place, if you're wrong, then the item will find its way back to the item bar and you'll have to try again.
Dream Inn: Driftwood is a game that looks cheap and tacky on the surface but is actually more than a little bit addictive once you get into it. Sure, it's not something that you're going to want to play in public for fear of someone actually seeing you engrossed in it, but if you're in the confines of your own place and you want something to pass five minutes or so, then you could do a lot worse than Dream Inn: Driftwood. Download it now and let us know what you think.