PES 2013 Demo Arrives Next Week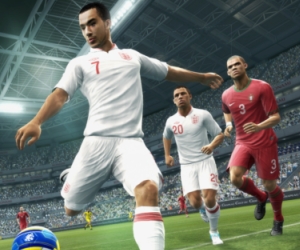 Did you see that ludicrous display last night?
Konami's annual kick-the-ball-in-the-net extravaganza hits shelves later this year, but on Wednesday 25th (That's next week!) you'll be able to get your hands on a demo for Xbox 360, PlayStation 3 and Windows PC from the game's official website.
New features include PES FullControl, "wherein players are given total control over every pass, shot and even first touches to the ball.", Pro-Active AI that "ensures that players move as they should both on and off the ball, creating a truly authentic big match experience." and a Player ID System, that "enhances the feeling of individuality, with players that not only look and move like their real life counterparts, but also play just like them."
The demo features 8 playable teams: The England, Germany, Portugal, Italy national sides and Santos FC, SC International, Fluminense and Flamengo teams from the Copa Libertadores mode).
Joining the announcement of the demo is a new trailer and some lovely looking new screens, which you can see below.
[nggallery id=977]