Dishonored's Exceptional Ensemble Cast Revealed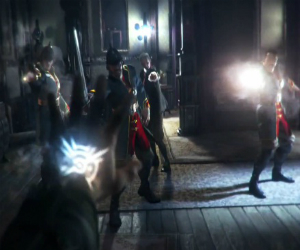 Featuring a whole host of award-winning talent, Bethesda Softworks and Arkane Studios' upcoming first-person action game Dishonored's all-star cast will help your immersion in the adventures of Corvo.A voice cast is incredibly important in telling the story of a video-game, as poor voice acting can completely convert what should be a tense and well-delivered speech from the script into a stilted, awful mess. Dishonored seems set to avoid this problem, with a stellar group of raconteurs ready to take up roles in the game. The full list can be found below.
Chloë Grace Moretz (Hugo, Kick Ass)- Young Lady Emily, the daughter of the Empress.
Carrie Fisher (Original Star Wars Trilogy)- The voice of government propaganda in Dunwall
Lena Headey (Game of Thrones, 300)- Emily's caretaker, Calista.
Susan Sarandon (Academy Award winner- Dead Man Walking)- Blind former aristocrat Granny Rags, with a touch of eccentricity after years on the street.
Brad Dourif (Lord of The Rings Trilogy, Golden Globe Winner- One Flew Over The Cuckoo's Nest)- Piero, inventor of Corvo's mask.
Michael Madsen (Reservoir Dogs, Kill Bill)- Daud, a mysterious assassin
John Slattery (Mad Men)- Admiral Havelock
I think you'll agree, that's a pretty impressive cast of voices to have, and it makes me personally even more excited for the game's release on Xbox 360, PS3 and PC on October 9th in North American and October 12th in Europe.