PaPo & Yo Jumps Onto PSN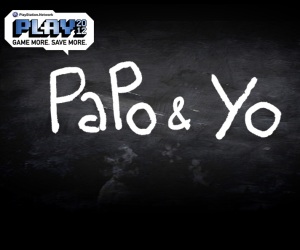 The award-winning puzzle-platforming adventure game made by the independent development studio, Minority Media is available from the PlayStation Store now.This PlayStation exclusive title will form the second part of the PSN PLAY promotion and will be available after today's PSN Store update.
"Over the past year, I've spent a lot of time talking about how wonderful it is that SCEA has helped me make such a personally-inspired game. Now that launch day is here, I hope everyone has a chance to play Papo & Yo and see this isn't just a game about my childhood; our whole team has worked hard to create a fun, magical adventure that should speak to players everywhere, and I can't wait to hear stories from those who experience it!" – Said Vander Caballero, Creative Director
PaPo & Yo is about a young boy called Quico and a beast called Monster. Monster's addiction to poisonous frogs drives him crazy and no one is safe from his mindless rampage. The player will be Quico and his main goal is to help his beast friend from himself by solving puzzles and navigating through a magical world.
[nggallery id=999]
PaPo & Yo is available right now from the PlayStation Store.