You know what day it is? It's Monday again and that can mean only one thing here at GodisaGeek.com: It's time for another edition of Mobile Monday, the article where we take a look at four mobile games and let you know if they're worth your time and money.
This week we're taking a look at Super Hexagon from Terry Cavanagh, Toki Tori from Two Tribes, McPixel from Sos and Mikey Shorts from BeaverTap Games.
Read on to find the full reviews of each game, but don't forget to come back next week for more Mobile Monday reviews. While you're here, if you have played any of the games listed, or even just want to come back once you've had a go to let us know how you got on, we'd love to hear from you in the comment box at the bottom of the page.
Get downloading and get playing!
Titles are available on iPhone and iPad unless specifically stated otherwise. If you like what you read, click the small black "App Store" button to load iTunes up and purchase the title!


SUPER HEXAGON (iOS) by Martin Baker:

I was skeptical when I was told that I "have to try Super Hexagon". Normally, when someone tells me that a game is one of the most addictive titles on the iOS App Store, and that I'm not going to be able to put it down, I find myself instantly disappointed in what I end up playing. That goes for anything really; video games, films, TV shows – if someone tells me that I simply have to play/watch/do something, I hype myself up too much and end up being ultimately disappointed. That wasn't the case with Super Hexagon, it's worth most of the hype.
The aim of the game in Super Hexagon is simply to survive for as long as you can, avoiding the lines and various other shapes that will come hurtling towards your small triangle of a character, and gaining the best possible time you can. It sounds like something that most people will want to put down after only a couple of goes but there's something about it that keeps people saying to themselves "oh, I'll just have one more go, I'm sure I'll be able to get further next time". It's the same mentality behind games like Super Meat Boy and in terms of purely getting people to keep playing, it works.
There's something to be said about a game which names its lowest difficulty setting "Hard". There's no doubting what you're letting yourself in for from the moment you start Super Hexagon up for the first time. The game is brutal. It's quite simply one of the most difficult games that you'll ever play on your iDevice, but somehow it manages to convince you that whenever you fail to get further than the previous attempt, it's all your fault. The game didn't do anything wrong whatsoever, you simply weren't fast enough, or weren't paying enough attention; whatever the reason you have for failing, there's no doubt that it's nobodies fault but your own.
One of the major difficulties in Super Hexagon lies in the controls. They're not difficult to learn, all you needs to do is tap the left hand side of the screen to rotate your character/object anti-clockwise and tap the right hand side of the screen to do the opposite, but the controls are almost impossible to fully master. Most of the time you'll find yourself helplessly stabbing at the screen hoping and praying that you're somehow going to fit between the gaps. That's about as much control as you'll feel you'll have at some points, it's a game where you've got to be "in the zone" and if you're not, well, you're not going to get very far at all.
Super Hexagon is a game that everyone should at least try, the best part about the iOS App Store is that even games as addictive to this, with this much of a "just one more go" factor, are as cheap as chips; in fact, in most cases, they're cheaper than chips. So you've almost go no excuse for giving it a whirl. It's been getting a lot of attention over the last few weeks, and deservedly so, but if you're not the type of person who enjoys insanely difficult games, layered with a generous helping of rip-your-own-face-off challenge, then you may just want to borrow a friend's phone to see if it's up your alley. I'd suggest everyone gives it a go though.


TOKI TORI(Nintendo 3DS) by Sean Smith:
I will be honest here and hold my hands up; Toki Tori was a title that completely passed me by the first time around. I don't admit this lightly, being as I am a bit of a Capcom fanboy and handheld gaming aficionado. Based upon a little known 1994 MSX 2 game called Eggbert, it was developed by Dutch firm Two Tribes and originally released back in 2001 for the Game Boy Color. Perfectly suited to handheld gaming, the puzzle platformer has subsequently been released on a number of formats, including enhanced ports and remakes for WiiWare, iOS and Android devices and Steam amongst others.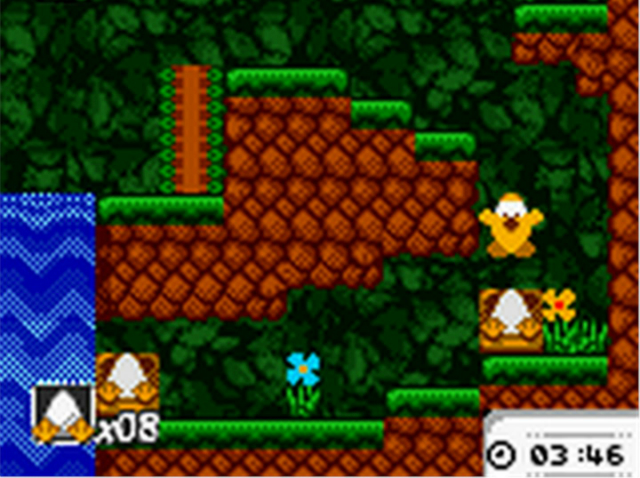 The aim of the game is simple, you play the part of a loveable looking, physically limited bird, in a quest to rescue your "siblings"; who are still preserved in egg form. Your avian hero is able to waddle around and climb up and down ladders but has to rely on special abilities – which are doled out at specific intervals – in order to beat the challenging platform puzzles, set over four worlds, and gather all of the eggs. The abilities or items at your disposal range from being able to build bridges to span gaps, a teleportation device or even a freeze ray which allows you to zap your enemies in order to pass unscathed, or in some cases use them as a handy platform.
This is a slow moving, resolutely old school platform puzzler, which is very much of its time and will be too pedestrian for some gamers used to the high octane thrills of the modern age, but it is well designed and works well as a handheld title, with forty tricky levels and a bunch of unlockable stages of increased difficulty once you have mopped up all of the eggs in the main ones. At the best part of four quid, this isn't a cheap way to play Toki Tori, but for fans of retro games this is a well-designed title and worth a look. So if you are able to then I would advocate that you opt for the cheaper iOS or Android version over the 3DS port, which lacks any exclusive features of note.


MCPIXEL (iOS) by Robin Parker:
Upon first examination, McPixel (pronounced mac-pick-sell) appears to be as indie as iOS games come. McPixel is your typical action hero, here to save the day. You are given twenty seconds on each level in the game to successfully find and disarm a bomb or prevent an explosion, before said explosion kills you and everyone present.
The presentation is incredibly simple, and the 8-bit style pixelated characters and background art is punctuated by the bleeps and bloops of a high-octane old-school arcade soundtrack. Nothing on the audio-visual side of things makes the most of the hardware at its disposal.
What does make the most of your iOS device, however, is the touch-screen controls, which fit the game like a glove, allowing for an old-school point and click gameplay experience. You can touch most items and people in a scene, and most things will elicit a reaction, whether positive or negative. It is all very intuitive, and no instructions are needed for play, you simply tap what you want to interact with. What are less intuitive are the puzzles themselves. It must be said that few to none of the solutions make a whole lot of sense, so trial and error is the order of the day, and by trying everything, you will witness much more of the game's unique sense of humour.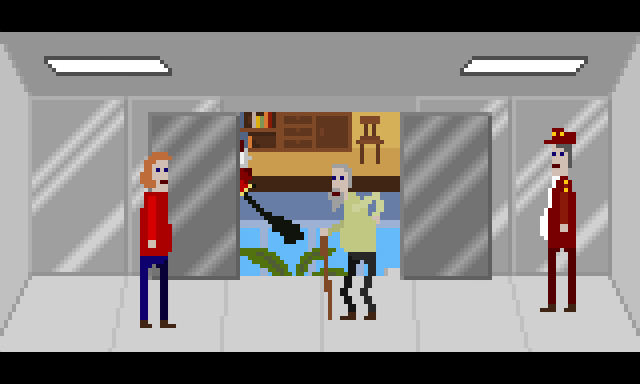 The game is spread out across several worlds, each made up of a series of stages (sounds pretty run-of-the-mill for a retro-style game, right?). There is only one successful solution on each stage, although you can try many options; often leading to funny and bizarre alternate outcomes. In fact, if players discover every hidden joke and option for all the levels in a specific world, they will unlock an extra secret area, with another six stages to attempt, often themed and even sillier than before. This means that there is a lot of content here for a small price, and finding all of the secrets to unlock the true ending will keep you busy for a decent length of time.
The format of the game makes it a perfect casual title, where you can easily dip in and out of the short levels as little or as much as you would like. However, these short, humorous levels encourage addiction and you will easily find yourself whizzing through 20 stages in no time, despite the sometimes obtuse and tricky solutions you need to find. Its simple charm is likely to appeal to a broad range of gamers, and its control system makes it accessible to virtually anyone. McPixel is the worlds newest – and strangest – action star.


MIKEY SHORTS (iOS) by Martin Baker:
Mikey Shorts is a strange little iOS title whose name really doesn't give much away about what the game could possibly be about. Is it a game about a kid named Mikey who has an exceptionally good pair of shorts? Or is it a game that comprises of a selection of different short films centred around the character of Mikey? It turns out it's none of these, Mikey Shorts is a quirky iOS platformer, from the guys over at BeaverTap Games and it's one that you're going to want to play. I almost guarantee it.
The main objective in Mikey Shorts is to rescue all of the characters in the level that have been turned to stone, then make your way to the exit in order to complete the level. As you'd expect from an iOS game by now, everything is you do is summed up, upon the level's completion, by a series of stars. One meaning that you completed the level, if only just, and three means that you're a legend on the making. In order to get all three stars on each of the levels you're going to have to rescue all of your friends, and make it to the end of the level in an insanely quick time. It's up to you whether you think you're up to the challenge or not.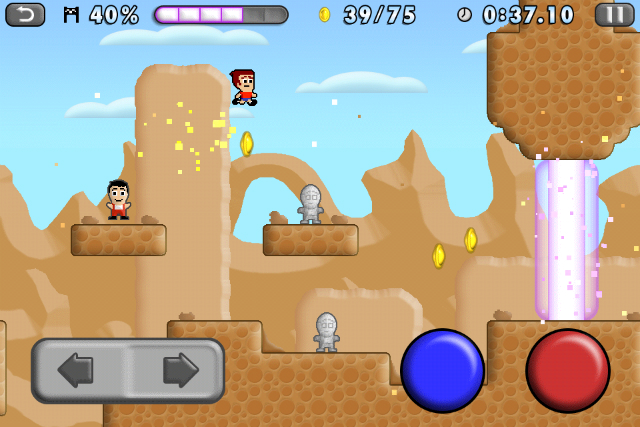 There are gates that you'll find yourself needing to travel through too, dotted around each of the level, and in order to pass through them you're going to have to collect those friends that have been turned into stone. Each one you collect increases your energy bar, and once it's full you'll be able to pass through a single barrier. This simple, yet effective gameplay strategy means that you're going to have to think creatively in order to complete some of the later levels, deciding who you're going to save and in which order.
Normally I turn my nose up to the on-screen controls found on most iOS games of this ilk, but Mikey Shorts is actually one of the best experiences of the on-screen controls that you can currently get from the iOS App Store. You're able to move the elements wherever you like on the screen, which helps to keep things exactly how you want them, but there's something about the controls that just feels right. They're responsive when you touch them and even the D-Pad allows the player to control the character while they're still in mid-air, much akin to Sonic the Hedgehog of yore. I'm never going to be the biggest fan of on-screen controls, nothing is ever going to beat the feeling of having a controller on your hands, but Mikey Shorts comes surprisingly close.
Mikey Shorts is an extremely well presented little iOS platformer which, after a while, most people will forget they're even playing on their iDevice. The visuals look like something from the 16-bit era too which, coupled with the old-school feelings of the controls, helps to make those people who ache for every scrap of nostalgia feel an overwhelming sense of joy. If you're a fan of old-school games, or just good platforming games, then you should certainly pick up Mikey Shorts. You'll find it hard to put back down again though, you have been warned.