Bioshock Infinite Special Editions Revealed!
The ever loquacious Bioshock creator Ken Levine has taken to his blog on IrrationalGames.com to detail the special editions of one of next year's most anticipated games, Bioshock Infinite.
Swapping the deep blue sea for the wide blue sky, Infinite will tell the story of lawman Booker and the mysterious Elizabeth as they face the perils of the flying metropolis of Colombia – perils that include the hulking, partly-mechanical Handymen and the sinister Songbird.
People who purchase the Ultimate Songbird Edition of Bioshock Infinite will receive a 9.5 inch collector's statue of the huge mechanised crow, while those who pick up the Premium Edition will get their mitts on the following stack of goodies (which also comes in the Ultimate Songbird box):
A 3-inch keychain of the sold-out Murder of Crows vigor bottle replica.
A 25 millimeter, resin-cast Handyman miniature from the upcoming BioShock Infinite board game.
A 5 x 7-inch lithograph by irrational Games' concept artist Jorge Lacera.
A mini art book of BioShock Infinite concept art and commentary, with a hand-distressed cover.
Exclusive in-game gear, a digital soundtrack, and platform specific downloadable content (i.e. Avatar costumes for Xbox 360 gamers, and special themes for PC and PlayStation 3 owners).
The figurines and keychain are all boxed individually to satisfy the collectors out there who crave their sealed goodies. A full spread of what's on offer can be seen below.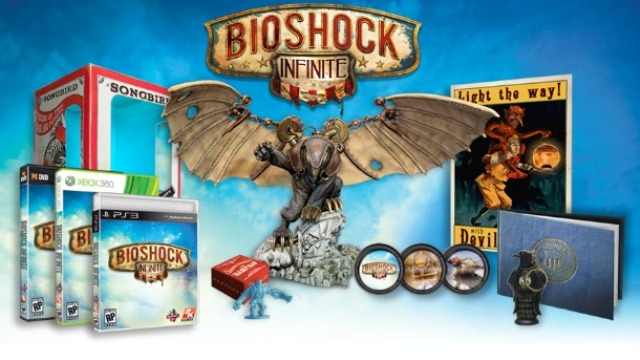 All editions of Bioshock Infinite will be available to pre-order from October 22nd, and the game itself is scheduled for release on March 26th 2013.