Borderlands 2: Captain Scarlett and Her Pirate's Booty DLC Trailer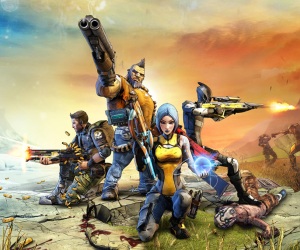 It may not have been made entirely explicit, but we like Borderlands 2 an awful lot here at GodisaGeek. We gave it a cracking score in our review and have done our best to bring you every sniff and slip of news concerning Gearbox's shooter-looter as it drops, including a heads-up about the first piece of campaign DLC, which is available to download right this very minute.
Captain Scarlett and Her Pirate's Booty sees the four plucky Vault Hunters (or five, if you downloaded the Mechromancer pack last week) teaming up with scheming, honey-toned pirate Captain Scarlett, in spite of her own assurances that she will definitely stab them in the back at some point. The purpose of their precarious partnership is the discovery and misappropriation of the legendary treasure of Captain Blade, lost somewhere in the deserts of Pandora.
Featuring a host of shiny new newness including guns, enemies, bosses, vehicles and quests, Scarlett's Booty also contains a new town in the form of Oasis and a massive new sandworm foe. The fantastic trailer (below) all but screams swashbuckling adventure and sinister pirates in a distinctly Borderlands accent, so if you're already a fan of the game, what are you waiting for?
Captain Scarlett and Her Pirate's Booty DLC is available to download now from XBL, PSN and Steam, priced at 800 MSP or £7.99. Owners of a Borderlands 2 Season Pass (2400 MSP or £19.99) will get it free.