Borderlands 2 Mechromancer DLC Available Today!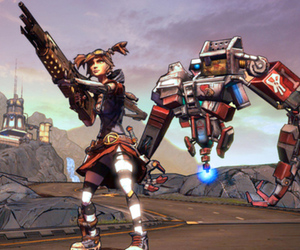 As if Borderlands 2 wasn't already fit to burst with content, developers Gearbox Software have elected to add even more already, by making the downloadable 5th character class available a full week early.
Originally scheduled and advertised to launch on October 16th, Gaige the Mechromancer can be yours right now – and free to members of the Borderlands 2 pre-order Premier Club.
She comes complete with kick-ass pigtails and a robot companion called Deathtrap who will act as tank, mitigating all those lovely colourful numbers for you, as well as three complete skill trees. Best Friends Forever buffs Deathtrap and rewards you for working together; Little Big Trouble increases elemental damage and grants new effects; and Ordered Chaos includes a stackable Anarchy skill and grants abilities that heal and buff.
If Gearbox support Borderlands 2 as well as they did the first game, Gaige should be just the tip of the crazy-ads DLC iceberg. Check her out below.