Borderlands 2 – Mechromancer DLC Trailer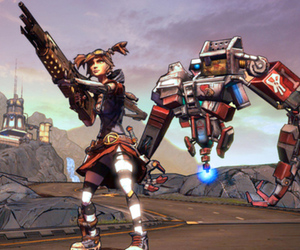 Despite Gearbox Software jumping their own proverbial gun and releasing the Mechromancer DLC a week early, there may still be some of you who are yet to sample the rather incredible delights of Gaige and her robotic partner Deathtrap.
If that's the case, check out this brilliantly bonkers trailer and then get her downloaded ASAP – especially as she's completely free to members of the Borderlands 2 Premier Club (which is to say, those who pre-ordered the game or bought it from certain retail outlets).
Gaige the Mechromancer is a fully fleshed-out character with three complete skill trees and a summonable robot buddy who will act as a tank and soak up all the damage while she makes wisecracks and blows stuff up. She's like Tiny Tina's older sister.
Here's that there trailer for y'all:
Borderlands 2 is out now, developed by Gearbox Software and published by 2K Games. The next batch of DLC, Captain Scarlett and Her Pirate's Booty is scheduled for release on October 16th.