Just Dance 4 Review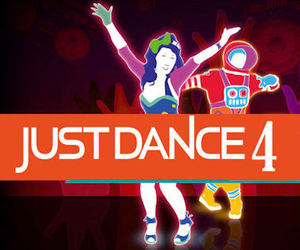 Game: Just Dance 4
Published by: Ubisoft
Developed by: Ubisoft
Available on: Xbox 360, PlayStation 3, Wii and Wii U (at a later date)
Reviewed on: Xbox 360
It's hard to believe that the Just Dance series has been around since 2009. To date, the series has sold tens of millions and has gone from being a Wii exclusive, to being multi-platform, thanks to the likes of Move and Kinect. Since it's inception, a pretender to the throne has come – and has bettered certain elements of the genre – in Dance Central. Dancing games in general, have made use of motion controls in ways that other games have failed to do. The casual audience can grasp the concept very quickly and begin having a blast within mere seconds. However, on a technical level, how does Just Dance 4 hold up? It may be inviting with its vigour and apparent lust for life, but is it competent?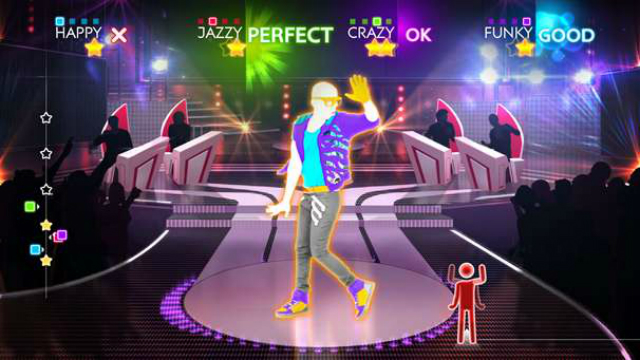 GRAPHICS: Just Dance has its own unique look and the fourth effort in the main series doesn't stray away from that. The bright, neon colours that contrast with the pastel skin tones of the dancers on-screen are very recognisable parts of the whole experience. Just Dance 4 is one of the campiest things you will ever set your eyes on. One particular routine epitomises this theory – an Ultimate Warrior clone squares up to a Mexican wrestler, whilst Europe's The Final Countdown plays and both men simulate a passionate fist fight through the medium of dance. There is nothing cutting-edge about how the game looks, but if you can throw yourself into the glitter-infested world of Just Dance, you'll appreciate the minimal style of the bold colours and simple models.
SOUND: A good music game that the host will break out at a party, must have a soundtrack that is song after song of well known tracks from years gone by, up until present day. Just Dance 4 is certainly packing an impressive number of tracks, with over 40 in total, but some of the included artists will leave 9/10 people at your party scratching their heads. Emma's 'Cervaco Amore' is hardly a well known classic and A.K.A's 'Hot For Me' sits in the exact same category. Of course, there are those radio tracks that people will want to play like Flo Rida's Good Feeling or Rihanna's Disturbia. There's a smattering of tunes for the older crowd too, but the majority of it is focused on modern day radio.
One nice touch is that, because Just Dance 4 does not take itself seriously, there are some gems in the soundtrack. Will Smith's Wild Wild West and Ricky Martin's Livin' La Vida Loca being two stand outs. On the whole, the soundtrack is decent, but the inclusion of some tracks are baffling. Yes, music games do contain up-and-comers, or periphery pop-stars, but in the party atmosphere that Just Dance 4 is destined to be played in, there are more than are asked for.
GAMEPLAY: Unlike the upcoming Dance Central 3, there is no story line, no gritty campaign and no emotional pay off at the nightclub after ten hours of "serving" the baddies. This is a straight up, no frills dancing game, where you pick the track that you want to shake your moneymaker to, and go. Each track can be played by up to four people and, in some cases, routines are tailored for more than one person. The routines that are choreographed with multiplayer in mind are still playable by one person, as you assume the role of one of the dancers on-screen and mimic their actions accordingly. Unlike a game such as Rock Band where playing a song by yourself can be just as fun as playing in a group, Just Dance 4 really is a party game. You will get the most out of it when you're playing with friends and family. However, unless you're Dean Gaffney (or some other D-list celebrity) and living the high life 24/7, chances are good that parties aren't happening in your house, Monday through Sunday. Hence, the routines that are built around more than one person are lacking a certain "je ne sais quoi" when you're all alone. If you're in your front room, by yourself, dancing to One Direction feels a little silly when so many of the moves involve interacting with other players. However, as I said, the probability of you playing it by yourself is very slim.
Along with these routines, Battle Mode is a new addition to Just Dance. There are only a handful of songs in this multiplayer mode which has two dancers face off in a Street Fighter styled setting with life bars. Each track is a mash up of two other tunes in the game and the action occurs over a number of rounds. The very small number of songs and the fact that these need to unlocked, is such a shame because this is one of the best things to happen to the series.
Just Dance 4 is perfect as part of your fitness regime, thanks to Just Sweat mode. There are multiple programs to choose that cater to different musical tastes and varying degrees of intensity. From a punk rock workout that is titled "Extreme Training", to an electro based workout that focuses on cardio. Within each, you can choose whether you want to exercise for 10, 25, or 45 minutes and the player will also be given an estimate of how many calories you'll burn in that time. Tracking your stats is also very simple as Just Dance 4 does that for you. The length of time, calories you've burned and classes played are all accessible in your Dancer Card, which can spur the player on to keep shedding those pounds as you can see your progress over time. One thing that Just Dance 4 has over something like Zumba Fitness Rush in the exercising department, is that while performing one of these workouts, you'll never be idle for any prolonged period of time. Zumba Fitness Rush has a tendency to be very slow to begin a new song, after finishing the previous one. Just Dance 4 will have you, more or less, constantly going for the length of time you've chosen.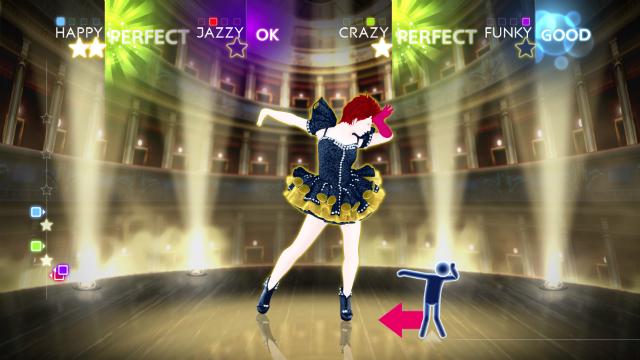 One thing the package is lacking is a tutorial mode. Once you begin a song, you're thrown into the deep end without arm bands and expected to float. The dance moves that are coming next appear in the bottom right hand corner of the screen, but a lot of them are difficult to interpret and, on occasion, the player won't know what to do in the chorus, for example, until the middle of the song. Most of the time, this leads to eyes being fixated on the avatar performing the steps, as opposed to the images of what moves are forthcoming. In a party atmosphere, this would only lead to more giggles from the audience and allows people to be thrust into the lion's den very easily, but from a video game stand point, there should have been some tutorial present.
However, even though some parts of the routine are difficult to decipher, the game can be a tad bit generous. As this is made for those with fun in mind, Just Dance 4 isn't as strict as some other dancing titles. Now, if you do nothing and just stand there, your score won't rapidly inflate, but if there's some effort, you'll be rewarded.  The body tracking is quite good and you'll rarely feel cheated, in that regard. Navigating through menus, though, is infuriating. Just Dance 4 works slightly differently to a lot of other Kinect enabled titles. Instead of holding your hand over a selection and waiting for a white ring to go full circle, confirming your selection, Just Dance 4 has the player confirm their selection by tapping forward in their virtual space to preview a song and tapping again to confirm it. The regular method of making choices in Kinect games is flawed, but this feels even more so, as you can see in our First Look video.
LONGEVITY: On top of the robust library of songs and the fitness mode, Just Dance 4 has plenty of unlockables along the way. From extra routines, to the beat 'em up-esque Battle Mode. The fact that Battle Mode has to be unlocked is rather annoying as it's a feature I would've preferred to see in the game from the beginning, but opening up those mash-ups is something to work toward.
VERDICT: It's difficult to envision someone playing Just Dance 4 without friends, family and alcohol present. This can be bundles of fun in that setting and, to be fair, beer goggles aren't a must at all, but it helps. Some of Just Dance 4's biggest faults aren't even in the dancing, as navigating through menus is one of the game's most obvious negatives. As is the lack of tutorials. Yet, with the good, albeit lacking in content, Battle Mode and great fitness programs, Just Dance 4 will satisfy those with a want for more Just Dance.