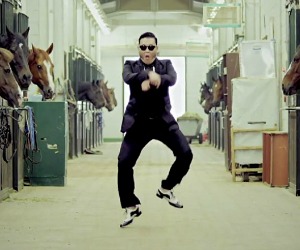 Not to be outdone by the news that the latest dance sensation – Gangnam Style – will be released for Dance Central 3 next week, Ubisoft have pushed the track out double quick, and it is now available to purchase for Just Dance 4.
The track was released yesterday on Kinect for Xbox 360, and will be made available today (November 21) for PlayStation Move and Nintendo Wii. The track is also planned for release on Wii U at a later date. The track will cost 300 Microsoft Points / 300 Wii Points / £2.39 on PSN. So now, those of you who want to dance like you are riding a horse, and imitate the antics of PSY, can indulge yourself. The only conundrum that remains is: do you play it on Just Dance 4 or Dance Central 3? Let us know in the comments which is your dancing game of choice?
To celebrate its arrival, Ubisoft have put together a suitably silly trailer and screenshots:
[nggallery id=1151]
Just Dance 4 is available now on Xbox 360, PlayStation 3 and Nintendo Wii.