Dance Gangnam Style with Just Dance 4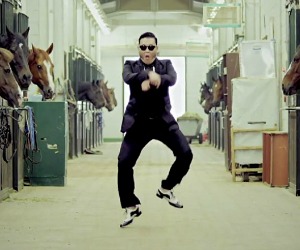 The global phenomenon that is Gangnam Style will soon be coming to your home consoles as Ubisoft have announced that the worldwide smash will be available soon as downloadable content for Just Dance 4.
The song and dance routine, by South Korean rapper PSY, has already topped the Billboard Social Charts, the UK singles charts, and found fame with fans and celebrities alike all over the world – and now the hit will be coming to the world of video games. The track is due for release sometime in November for all platforms that support the game, and pricing has also been confirmed to be in line with all previous Just Dance DLC released.
Geoffroy Sardin, the Chief Marketing & Sales Officer at Ubisoft said; "We're dedicated to bringing Just Dance fans access to the music and musicians they love… Our fans were really vocal about wanting Gangnam Style in Just Dance 4 and we listened. This marks the first of many hot upcoming DLC tracks for Just Dance 4."
Even the artist himself seemed chuffed with the news;  "Gangnam Style and Just Dance 4, I can't wait to see all the YouTube videos", was the reaction from PSY. This will surely be a fun track to dance to, we also can't wait to see the results!
Just Dance 4 is out now on Xbox 360, PlayStation 3 and Wii.