Despite Teething Issues Happy Wars Brings Free to Play to XBLA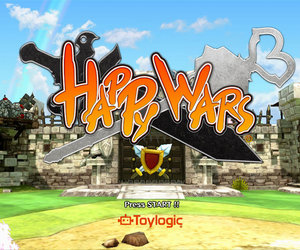 Developers Toylogic and Microsoft have unleashed a new kind of MMO on Xbox LIVE Arcade, as the free-to-play fighting title Happy Wars launched at the weekend.
The game suffered a few technical issues upon launch, with the title not appearing correctly on Xbox LIVE Arcade, so players couldn't actually download the title. These were fixed in fairly short order, and the game has seen a high number of subscribers trying out the title over the weekend.
The title is free to download for all Gold subscribers on XBLA and will deliver large thirty man matches, where gamers will face off against one another in frantic fights. With a cel-shaded graphic style, and cute characters, don't let the presentation fool you, as the class-based combat can get really wild.
Players will be able to customise their characters greatly, by earning loot in battles, or by buying Happy Tickets – the monetization in-game, that will help fund the title. However, Toylogic have confirmed that no matter what gear you equip or buy, all players will remain competitive – whether they choose to spend real life money or not – having full access to the ability trees and upgrades in the game.
Happy Wars features:
Play for Free – Happy Wars is the free-to-play game on XBLA, a 100% free download for anyone with an Xbox LIVE® Gold Membership. There's no need for players to ever spend a dime in-game to remain competitive.
Endless Customization – Whether through battle or purchasing, players can equip and combine thousands of items, upgrade their equipment, and completely change the look of their characters.
Massive Battles – Happy Wars throws up to 30 players into the fray at once in multiplayer matches, and players can also team up to battle full teams of bots in cooperative mode or play solo against the AI in a fully-featured single-player campaign.
Pick up and Play – Combat in Happy Wars is easy to learn and action-packed. Players can easily unleash skills on the fly or team up for massive group attacks with a single button, letting them focus on what's really important: winning!
Teamwork is Key – Mages, clerics, and warriors complement each other on the battlefield. To coordinate their tactics, players can either use integrated hot-keys for text message or XBLA voice chat.
If the title catches on and gets a good following, the huge brawls could be a lot of fun – but it remains to see how well the free to play model will work on Xbox 360.
See the latest Happy Wars trailer below.
Happy Wars is out now on Xbox LIVE Arcade, and is free for all Gold subscribers.