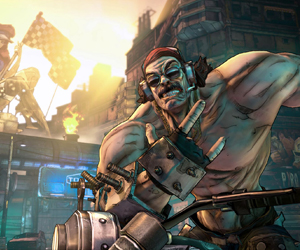 Having already given us a healthy second helping of gun-crazy, loot-centric, bandit-perforating madness with Captain Scarlett and Her Pirate's Booty, Gearbox are back again with the second major slice of DLC, Mister Torgue's Campaign of Carnage, priced at 800 MS or £5.99 (or free to those who own a Borderlands 2 Season Pass).
Similarly to everyone's least-favourite Borderlands add-on, Mad Moxxi's Underdome, Mister Torgue's Campaign features free-for-all arena-style combat against waves of enemies who will not only attempt to kill you, but also one another. Unlike the Underdome, however, Mister Torgue's Campaign comes with some excellent new loot like the super-explodey Cobra sniper rifle and the even more explodey "Pocket Rocket" pistol.
Characters from the main campaign will feature as sponsors, most notably the hugely popular Mad Moxxi herself and everyone's favourite psychotic 13-year-old Tiny Tina. The action takes place in a massive arena known as Mister Torgue's Badass Crater of Badassitude, which should give you some idea as to the purpose of this particular add-on. Beware the Badassaurus Rex!
Mister Torgue's Campaign of Carnage is available now to download for PlayStation 3, Xbox 360 and PC. Check out the launch trailer below.
Borderlands 2 is available now for Xbox 360, PlayStation 3 and Windows PC.