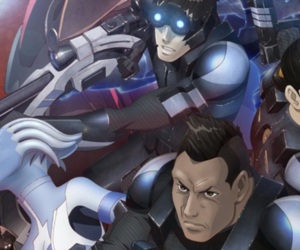 A new animated film prequel to Mass Effect 3 – entitled Mass Effect: Paragon Lost – will be released on Blu-Ray and DVD later this year. It has now been announced that the film will also be getting a full musical score by a pair of award winning composers.
The film is being put together by Production I.G. – the animation company behind the Ghost in the Shell films – and will follow Alliance Marine James Vega as he takes on the Collectors. This will flesh out the back-story that players learned about Vega when playing Mass Effect 3, and Freddie Prinze Junior will return to voice the character again. The film will feature a full dramatic score composed by Joshua R. Mosley – who has previously scored animations for television, as well as Splosion Man for Twisted Pixel games – and David Kates, who worked on the first two Mass Effect titles.
The brand new Mass Effect: Paragon Lost Original Soundtrack is going to be distributed online by FUNimation Entertainment, amd will be available for download through digital retailers such as iTunes. The film will even be getting a limited, one night only theatrical release in several Cinemas across North America – the details of which you can found here.
Fans had a very mixed reaction to Mass Effect 3 – and James Vega certainly wasn't the most charismatic character taken from that game – but perhaps Paragon Lost will help to make more sense of some of the loose threads between the second and third games, and give Vega a little more character.
Mass Effect: Paragon Lost will be released on Blu-ray/DVD Combo and DVD on December 28, 2012.