Star Wars: The Old Republic Goes Free-To-Play Next Week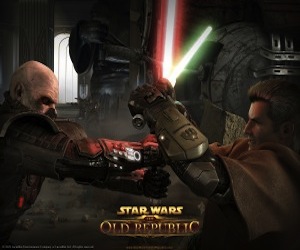 It's no secret that after a decent launch, SWTOR fell down quite a bit. With so many MMOs adopting the free-to-play model in the last couple of years, Bioware and EA were always going to follow suit. It was just a matter of when.
Today, the official date has been announced. On November 15, everyone will be able to play the game for free. All storylines are here and those just joining in a week's time will be able to reach the glorious level cap of 50, just like the people that payed full price for the game less than a year ago.
However, if you've been playing the game since last December, you don't have to feel cheated because EA and BioWare have you covered. All paying subscribers will be rewarded with a grant of 250 complimentary Cartel coins and all of the coins on the Cartel Coin Ledger page. Swings and roundabouts.
Star Wars: The Old Republic is available now on Windows PC