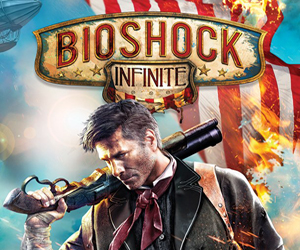 …just delightful. When the cover of Bioshock Infinite was revealed to be overly generic and bland, fans of the series were loud in their crys of displeasure. They wanted something that represented the game in a better way than just fire, guns and Nathan Drake 2.0.
Irrational Games listened and after a poll that offered up six potential designs as an alternative to the revealed box art, Irrational Games revealed that the one that prominently features a Songbird was chosen as the winner, with 38% of the votes.
After the initial reveal of Bioshock Infinite's box art, Ken Levine spoke about the marketing ideas behind it. The cover is the way it is so that your average CoD player may pick it up. It's understandable, to be fair. In today's climate where video games cost a hell of a lot of money, that success rate needs to be very high. If the box art can strike a chord with people that may not otherwise pick up your game, then you may sell an extra few copies.
You can see the winning design that will be printed on the reverse of the Bioshock Infinite sleeve, below.
[nggallery id=1189]
Bioshock: Infinite will be released on March 26 2013 for Windows PC, Xbox 360 and PlayStation 3