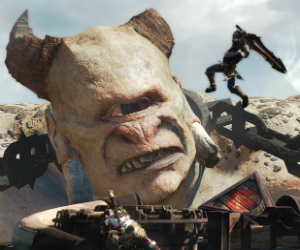 It will soon be time to shave your head and sharpen your axe (or sharpen your massive blades attached to steel chains) as God of War: Ascension approaches, delving into Kratos' past once more to tell the tale of how he first came to serve Ares. The big addition to the franchise this time around is the multiplayer element, and according to the PlayStation Blog, lucky PS Plus subscribers will get a chance to get in on the beta testing from January 9th.
You'll have the opportunity to sample both the Favor of the Gods and Team Favor Rush (as the former, but with teams) modes, which see you killing each other as viciously as possible in order to win divine favour and get your hands on the mighty Spear of Olympus.
You'll be able to try out allegiances with either Zeus or Ares (with Hades and Poseidon reserved for the full game), and wreak carnage on two map types: large open maps like The Desert of Lost Souls, and smaller, more intimate environments like the Forum of Hercules multiplayer arena (based on God of War III's Hercules Arena). You'll also get a taster of the character customisation and upgrade systems.
For more information on the upcoming beta including gameplay details and strategies, check out the official page. In the meantime, here's the new Evil Ways multiplayer trailer for your viewing pleasure.
God of War: Ascension will be released on PlayStation 3 in the UK and Europe on March 15 2013.