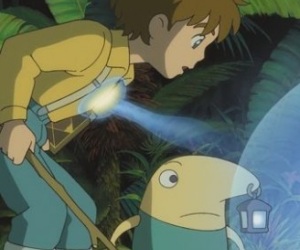 Ni No Kuni – ahhhh, Ni No Kuni. Just the mention of it makes me feel all warm inside. Level 5's Ghibli-designed RPG masterpiece has been localised and is heading to the PS3 in Europe soon.
Namco Bandai Games and Level-5 today announced today that the highly anticipated JRPG has gone "gold" for the PlayStation 3 computer entertainment system.  The game will be available for purchase at the PlayStation Store and at videogame retailers in Europe and Australasia on the 25th January 2013 in standard and 'Wizard's Edition'.
The Ni no Kuni: Wrath of the White Witch – Wizard's Edition will include a 300+ page hardback physical copy of The Wizard's Companion, the spellbook Oliver uses throughout his journey in the game.  The full-colour Wizard's Companion contains a bestiary of all the creatures found in the game along with in-depth item descriptions, spells and history of the other world.  The limited-run Wizard's Edition will also contain a plush doll of Drippy, Oliver's guide through his adventures, as well as exclusive 'golden mite' and 'golden drongo' DLC familiars.
Fans who pre-order Ni no Kuni: Wrath of the White Witch at participating retailers will also receive two exclusive familiars developed especially for the Western release: flutterby and griffy.