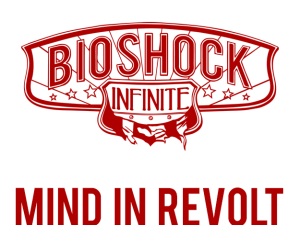 We're all waiting for BioShock Infinite's release, and even though Jonny got to play the opening four hours of the game (preview coming soon!) it's great news that Irrational Games have announced an E-Book prequel, called "Mind in Revolt".
Brilliantly, the book will only cost £1.85 (via Amazon Kindle, $2.99 US) and will be released on February 12. Even better, the game has had Ken Levine working on it, with Irrational Games' writer Joe Fielder, so if you like the BioShock canon, this should be good.
Joe Fielder said:
Since we first announced BioShock Infinite, our fans have asked for more information about Columbia and the complex cast of characters that inhabit the floating city. After reading the e-book, players will have a better understanding of BioShock Infinite's world, the struggle between its factions, and the motivations of key characters, like rebel leader Daisy Fitzroy, without spoiling the mysteries of BioShock Infinite.
We've got a bit of key art for the book, below. We can't wait to take a look!
[nggallery id=1234]