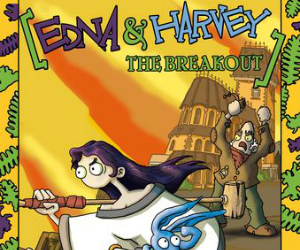 If you're a regular reader of GodisaGeek.com (and you should be) then you'll have noticed that we recently posted a review for the latest game in the Enda & Harvey series; Edna & Harvey: Harvey's New Eyes, however, that's not where the whole story started and the first game in the series, Edna & Harvey: The Breakout, is now available in demo form on the iPad.
The new iPad version of the popular PC game has controls which have been totally remapped to the iPad's touch surface, something which the point & click adventure arguably benefits from.
The story in Edna & Harvey: The Breakout follows young Edna as she awakes without any memory of her past inside a padded cell of an asylum. She doesn't have the slightest idea how she got there, but one thing is sure: She wants to break out! After all, she feels perfectly sane and her stuffed bunny Harvey whole heartedly agrees. Together they make their daring escape, meeting the most bizarre inmates: From the man in the bumble bee costume to the pseudo-Siamese twins Hoti and Moti. But Doctor Marcel, the asylum's head psychologist moves heaven and earth to stop Edna's breakout.
How is he involved? And why was her memory erased? Bit by bit, Edna regains her memory from her life before her stay in the cell…
If you want to get in on the action then click here to get the "lite" version of the game from the UK App Store.